Great Yarmouth demolition worker died after falling from height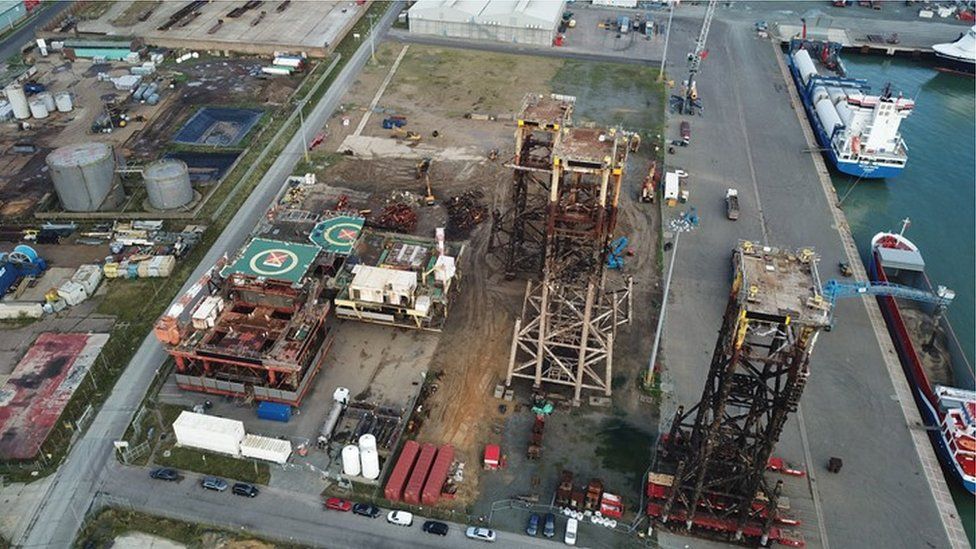 A demolition worker said to be "the best in the country" at metal cutting died while dismantling a decommissioned gas rig, an inquest heard.
Stephen Picken, 62, who was from Stoke-on-Trent, was working in Great Yarmouth outer harbour in 2019 when he died.
Norfolk Coroner's Court heard he was cutting the rig with a colleague from a cherry picker when a large piece of it fell off, striking the aerial platform.
The pair were then catapulted off the picker on to the ground.
A post-mortem examination found Mr Picken's cause of death was multiple injuries due to an industrial accident.
His colleague, Mark Kumar, was injured in the fall, but survived.
The inquest was told Mr Picken specialised in cutting metal with oxy-propane equipment.
While he was cutting the rig on the morning of 19 October 2019, a metal column toppled to the ground, hitting his and Mr Kumar's cherry picker on the way.
Crane operator Paul Atkin said: "I would describe the metal column as round and about 20ft long. It hit the cherry picker; I cannot say how much it weighs, but it weighs a lot."
He said he saw it catapulting the men out of the platform, with their hard hats flying off before they hit the ground.
Another witness, plant operator Jordan Richards, said Mr Picken was known as "the best man in the country" for his welding and cutting skills.
"He did not make mistakes," he said.
Mr Richards, who also saw the men "flying through the air", said they were both wearing the minimum safety wear, which had to be removed to check the men were still breathing.
"They both had their harnesses on. The rope is about a metre long. I cannot say whether they had attached their rope to the cherry picker or not, and I cannot tell whether they had broken or not," he told the inquest.
Mr Picken had been employed by Veolia Environmental Services.
Its chief risk and assurance officer, Richard Hulland, said the process of cutting and toppling the huge leg of the rig would involve "method statements", but said workers like Mr Picken made decisions on site based on their experience.
Mr Picken's widow, Gail, told the hearing her husband had been hoping to stop working so they could retire to Fuerteventura in Spain.
She said he had attended courses for his job and would often be asked to look at the method statements, put together by structural engineers.
"They would always ask Stephen's opinion about the job as his opinion was always valued," she said.
Related Internet Links
The BBC is not responsible for the content of external sites.