Heritage project helps bring history of King's Lynn to life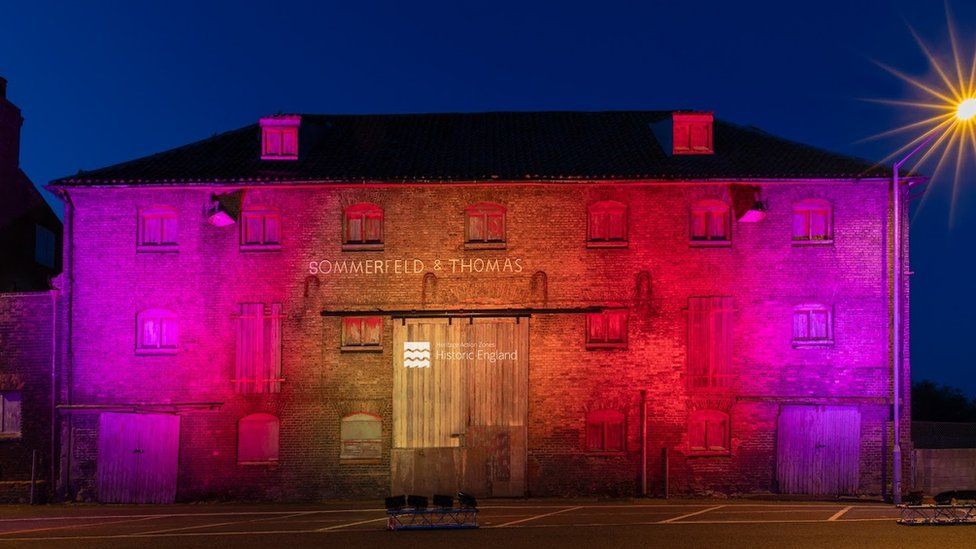 A heritage programme has helped to revive and protect historic parts of a town that will be appreciated by new generations, say local leaders.
The five-year King's Lynn Heritage Action Zone - part of a £6m scheme for 10 towns and cities - has now ended but will guide its future development.
Three historical research documents, listed building status, school projects and a student video have been produced.
Historic England said the scheme had brought "remarkable" history to life.
East of England director Tony Calladine said he was excited to see how it would shape the Norfolk port town's future.
"I'm particularly delighted to see young people so excited by their local history," he said.
"The historic information that's been discovered, and made accessible to everyone, will help to celebrate King's Lynn's unique character and guide the town's future development."
The project has focused on researching the town's rich heritage and uncovering information about unsung parts of King's Lynn.
There was now much better knowledge of sites including Southgates, Chapel Street and Common Staithe Quay - an important maritime centre in the 1600s.
One of the country's earliest examples of a reinforced concrete building, 33-39 St James' St, has been granted Grade II listing, as well as the former Baroque-style Lloyds Bank on Tuesday Market Place, built in 1928.
Cllr Richard Blunt, of the Borough Council of King's Lynn and West Norfolk, said the scheme had helped it learn "how the power of the historic environment can be used to help us safeguard its future".
"By learning about and celebrating its past, we are able to inform the town's future development."
About 10,000 school children were said to have taken part in opportunities to discover their town's history, while West College of Anglia students helped produce a film about a former Chapel Street resident preparing to be rehoused ahead of her home being demolished in the early 1960s.
The programme also carried out essential gutter clearance for 37 buildings and created maintenance booklets for historic properties, while the 18th Century Sommerfeld and Thomas warehouse has had investigation and survey work to enable its full repair later this year.
Related Internet Links
The BBC is not responsible for the content of external sites.