Elton John kicks off UK leg of farewell tour in Norwich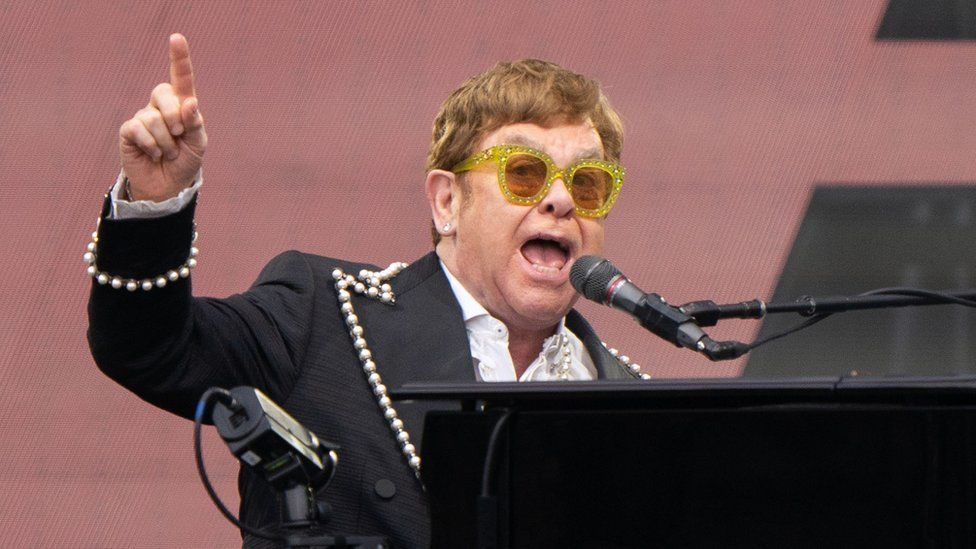 Sir Elton John kicked off the UK leg of his Farewell Yellow Brick Road tour to an enthusiastic crowd in a packed football stadium.
He treated fans at Carrow Road in Norwich to 23 of his hits, starting the show with Bennie and the Jets.
Sir Elton, 75, announced the Farewell Yellow Brick Road world tour would be his last, back in 2018, but it was halted during the pandemic.
The singer has said he wanted to spend more time with his two children.
"Believe or not, this tour has been going for a long time and this is the first English date we've done, due to you know what," he told the crowd.
"So it's lovely to be here in Norwich and playing to you guys."
The star took to the stage in Norwich wearing a black tuxedo with pearl trimming, a white ruffle shirt and yellow sparkly glasses for the first of his three extravagant outfits of the night.
He treated fans - many of whom had dressed in outfits in homage to their hero - to hits including Tiny Dancer, Rocket Man, Your Song and his recent number one single, Cold Heart.
After the interval Sir Elton returned, wearing his second outfit of the evening - a pink blazer with bejewelled teal lapels paired with baby blue diamante sunglasses.
His piano glided across the stage while he was sat behind it.
His 1983 hit I'm Still Standing was performed with a montage of his career highlights including clips from his performance at Live Aid, a cameo in the Simpsons TV show, winning his first Oscar and performing at the Queen's Jubilee concert.
For his encore, Sir Elton appeared in his third outfit - a long black dinner jacket with pink patterned lapel, completed with a pair of pink and black heart-shaped glasses.
He closed the show with Goodbye Yellow Brick Road, saying: "Tonight is the 229th show on the Farewell Yellow Brick Road tour, we have about 103 shows to do.
"It's been quite a journey and it all ends next July.
"But I want to thank you because I won't be playing here again. I want to thank you for all the memories, all the love you've sent me, all the loyalty, the kindness, the letters, the dressing up, the costumes, the multiple shows you've been to."
He added: "It means the world to me and I will never forget you guys.
"I will take you with me in my heart, in my soul and I can tell my boys all about you when I get old and decrepit. I love you."
Following his Norwich show, he will play eight concerts in the UK, with two special homecoming shows at Vicarage Road - the Watford FC stadium - with the tour running until summer 2023.