The Killers invite student to drum on stage at Norwich concert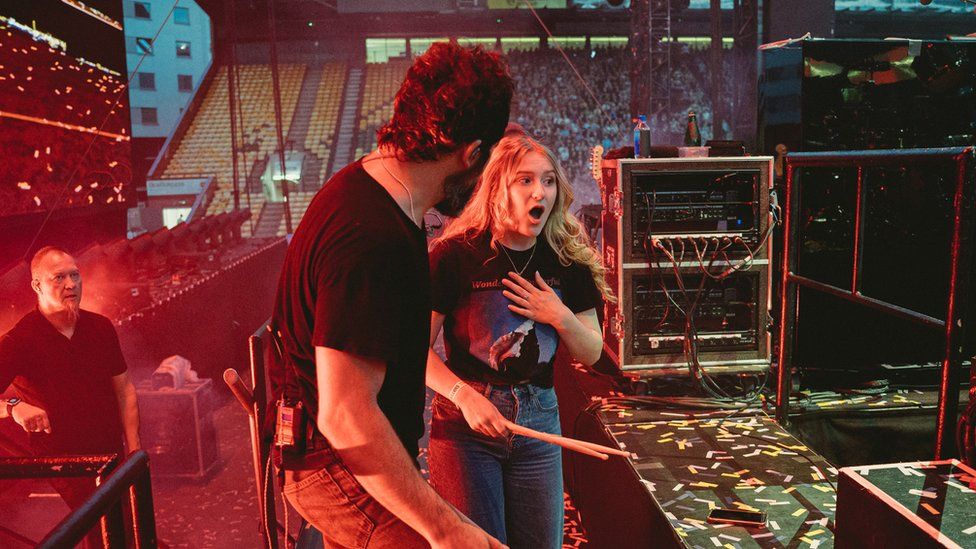 A 17-year-old student who rushed from her final AS-level exam to a concert by The Killers said she was in "utter shock" to be invited to drum on stage.
Grace, 17, from Worlingham, near Beccles, Suffolk, was chosen to get on stage at Carrow Road, Norwich after making a Las Vegas-style sign to get attention.
The band has a tradition of getting a member of the audience up to perform the song For Reasons Unknown.
She said it was "just incredible".
Grace, who has been drumming for about six years, said she saw the band inviting an audience member on stage when they were performing at the Latitude Festival several years ago.
"I joked with my friends and family and said 'next time they go on tour I will do that'," she said.
Several days before the gig at Norwich City Football Club's stadium, which had been postponed twice due to Covid, Grace said she started practising the song just in case.
She made a sign with her mum which read 'Can I drum For Reasons please?', which she held up at the concert hoping to grab the attention of frontman Brandon Flowers and the rest of the band.
As the opening riff of For Reasons Unknown started, she waved the banner again.
"Brandon said 'do we pick someone from the audience?', she said.
"I'd made a few friends in the crowd and they started shouting and pointing to me.
"I saw my face go on the big screen, and the next thing I know I'm hopping over the barriers.
"You can see it on my face, complete and utter shock."
She said she could not explain how it felt to play on stage with her favourite band.
"I just sat there and was like, I've practised for this, I love this song, just do it."
Grace, who attended the concert with her parents, aunt, uncle and a close friend, says she still cannot quite believe it happened.
"The Killers are one of my favourite bands, this is something I dreamt of, but I didn't think it would actually happen," she said.
"I was just in shock, I looked at my friends and family, I was like 'oh, I really just did that'.
"I'm so grateful for the opportunity, it's just incredible.
"You can see it on my face, complete and utter shock. I'm not really over it."
The teenager, who studies biology, chemistry and maths at East Norfolk Sixth Form College, said the concert was "definitely worth the wait".
"As for words to describe the experience... I haven't quite worked that out yet. But it was absolutely incredible, or as The Killers would say, 'once in a lifetime'."