Cost of living: 'It's become school's job to help families'
By Ian Barmer & Pete Cooper
BBC News, East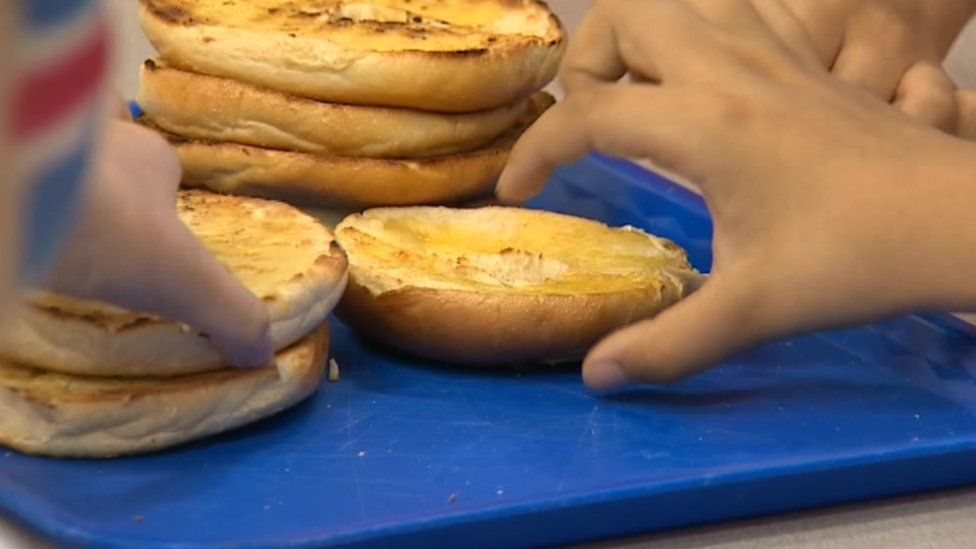 Schools say families are turning to them for help with the cost of living crisis. Now teachers are finding they are providing meals, uniform and "everyday essentials" to families and say it is set to continue.
'Working parents are worrying about bills'
Stuart Allen, head teacher at Mile Cross Primary in Norwich, says: "The real struggle is around bills... food bills and energy bills [and] it's really that, that is focussing all of [parents'] minds and time."
He says the number of parents the school is helping "is getting much, much, wider because we've got parents who are working who are really worrying about the future and about their bills and that is a huge change for us".
"We've got a look ahead 18 months to two years and how we can continue to support these parents and signpost them to some of those things they maybe haven't accessed before," he says.
Mr Allen says "it's become our job" to help families who are struggling with the cost of living.
"We're at the heart of the community and we've got to look to support our parents and I think that's the role of many schools across the land.
"We do our utmost and we try and find as much support and help for our parents, if we've got happy children they'll thrive, they'll attend school, and they'll do well."
'If children are hungry they can't learn'
Toby Whalen, deputy head teacher at Mile Cross Primary, has been making sure the pupils are properly fed.
"Food's everything for the children; not only does food need to be fun but children can't learn unless they've got full stomachs," he says.
He says from when the children arrive there are "hot bagels, fruit but also there's high quality food throughout the day, even if a child comes in and they want extra they can have it".
"The energy crisis, I don't think we'll see it really hit until winter, but certainly there've been more requests for food bank vouchers," he says.
He adds that they want to act in advance so that parents "don't have to ask for that help".
He says he has not noticed any changes with the children but that is "because we are feeding them so well".
"Food should be enjoyed so the meals we prepare for the children aren't just nutritionally spot on - they taste amazing," he adds.
'Children need to feel safe and secure'
Tom Rolfe, principal at Hellesdon High School on the outskirts of Norwich, says: "We're seeing a growing increase in the number of children and families who are struggling to meet the financial demands that life is putting in front of them.
"Many families are turning to us as the school to provide addition financial support and looking to us to give them some security and reaching out for us to provide them with some everyday essentials."
He says the school will provide help "for as long as we can" and he says he has "a number of resources and funding at our disposal".
"Our families, our children and our community are our priority," says the head teacher.
"We fully understand that these children need to feel safe and secure and are in a position to be ready to learn."
He says the children whose families are struggling sometimes "feel like they are a little bit excluded from the school population and we want that to be the last thing that happens".
"So if we can provide some additional support for those children it makes it much more inclusive and we feel, as a school community, we owe it to them that they have appropriate uniform, school shoes, school bag - everything we would expect everyday children to have," he says.
Related Internet Links
The BBC is not responsible for the content of external sites.