Nine seal pups released after months of rehabilitation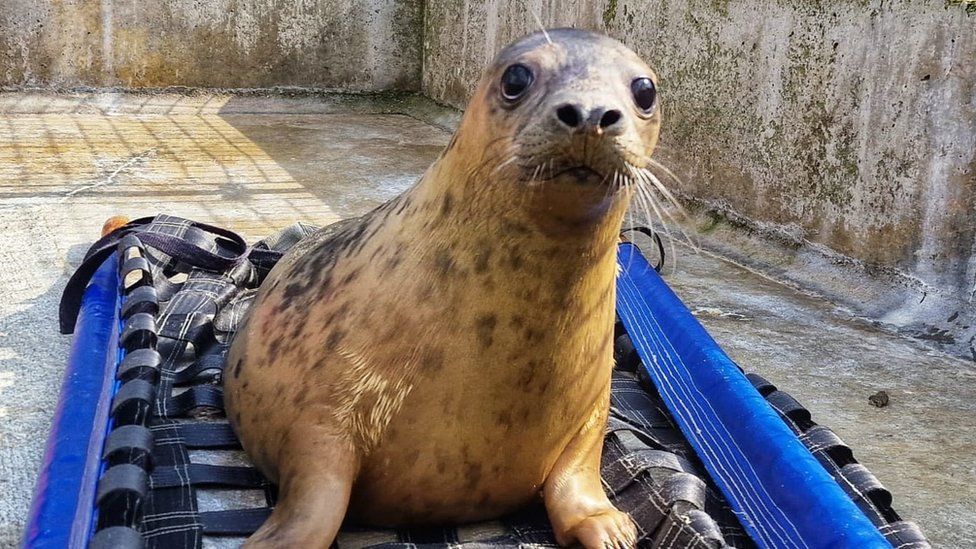 An RSPCA treatment centre has released a group of seal pups back into the wild following months of rehabilitation.
The East Winch Wildlife Centre in Norfolk released nine pups from a site at Sutton Bridge for them to journey on to the sea at The Wash.
The seals needed months of care after being rescued with them either injured, dehydrated, emaciated and orphaned.
Evangelos Achilleos, centre manager, said the "bumper release" on mudflats had gone "swimmingly".
"There were eight orphaned grey pups and one common seal pup... they had come into our care for a number of reasons, including being caught in netting and one had been attacked by a dog," he said.
"I'm pleased to say it all went swimmingly. It's always such a pleasure to watch them eagerly plunge into the water and then head off towards the sea."
The centre shared a video on social media of Barn Dance, Gustav, Renee, Axel, Duncan, Diego, Vermeer, Stanhope and Neil being given their freedom - bouncing and sliding down the mud bank into the River Nene in Lincolnshire.
Our mass release has happened we have released 9 pups!Bounce sea slugs, bounce! 😁 We have released, Barn Dance, Gustav,Renee, Axel, Duncan, Diego, Vermeer, Stanhope and Neil! Please check our amazon wishlist as we are trying to work through the orphan season. 😊#rspca #seals pic.twitter.com/0INJaihUvu

— RSPCA East Winch Wildlife Centre (@RSPCAEastWinch) May 19, 2022
Over three to four months of rehabilitation, the pups went from being tube-fed to getting through 3kg of fish per day at the end of their treatments.
East Winch will continue to track the progress of the seals by trying to monitor tags put on the seals' flippers.
Related Internet Links
The BBC is not responsible for the content of external sites.