Fisherman of the Year title given to a woman for first time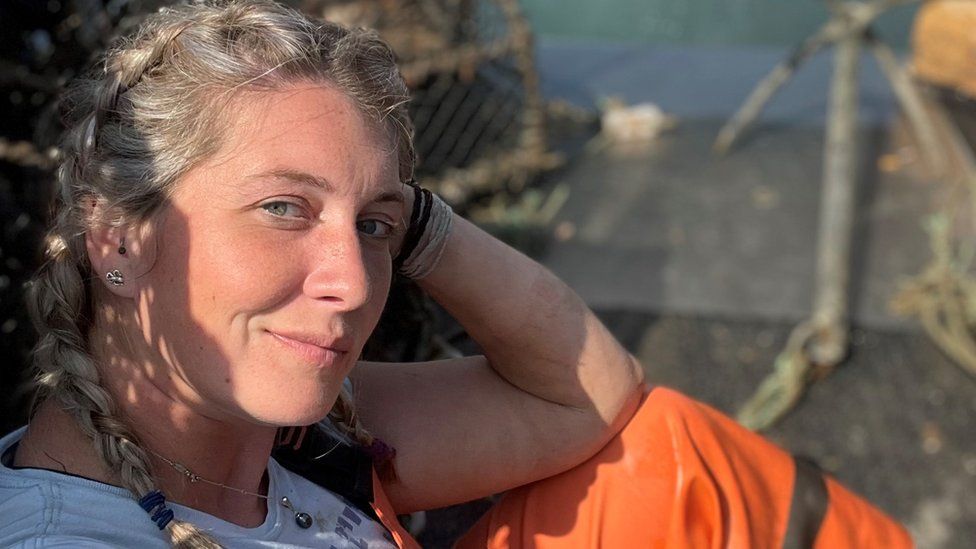 The first woman to land a Fisherman of the Year accolade said she was determined to "normalise" the role of women in the industry.
Whelk fisherman Ashley Mullenger, who fishes off Wells-Next-The-Sea, Norfolk, netted the under 10-metre category in the annual Fishing News Awards.
Despite breaking this particular glass ceiling, Ms Mullenger said she wanted to be known as a "fisherman".
"I am just a girl on a boat catching fish," she said.
"Men have done this job for years, historically built the industry, I'm not about to come in and take that title away from them," she said.
"I've always said that I'm a fisherman, that's how I choose to identify."
The under 10-metre award, which refers to the size of fishing vessel, looked for "an individual who has demonstrated skill, determination, leadership ability and adaptability to change."
Ms Mullenger and Isla Gale, from the Isle of Man - who won Trainee of the Year at the awards - are the first women to scoop the fishing awards in a male-dominated industry.
"To be recognised as a woman in the industry - to just be nominated - was enough," Ms Mullenger told the BBC.
"That feeling of acceptance, I'm speaking out about British seafood and the small-scale fleet here in this country.
"Men have worked hard to build this industry that I'm now part of. It is part of my honour and respect for them," she said.
"The industry is complicated, it's really complex. I try to educate myself as much as I can so I can sit at the table and be involved in discussions that may ultimately affect our future."
She added: "We normalise it, we normalise being in the space and we absolutely shout about women in the industry's successes."
Andy Read, editor of Fishing News, said the awards were voted for by the publication's readers, who "reward the best people".
"It is to recognise that there is a proper career at sea, it's well-paid and people can become successful in a relatively short period of time - it's not a dead end job," he said.
"It's about hard work, skill and graft.
"More than 50% of the representatives of fishing associations in this country are women, most from fishing families.
"This is about celebrating everything that is good about the industry."
Related Internet Links
The BBC is not responsible for the content of external sites.