Chronic pain: Mindfulness has 'massive effect' on mental health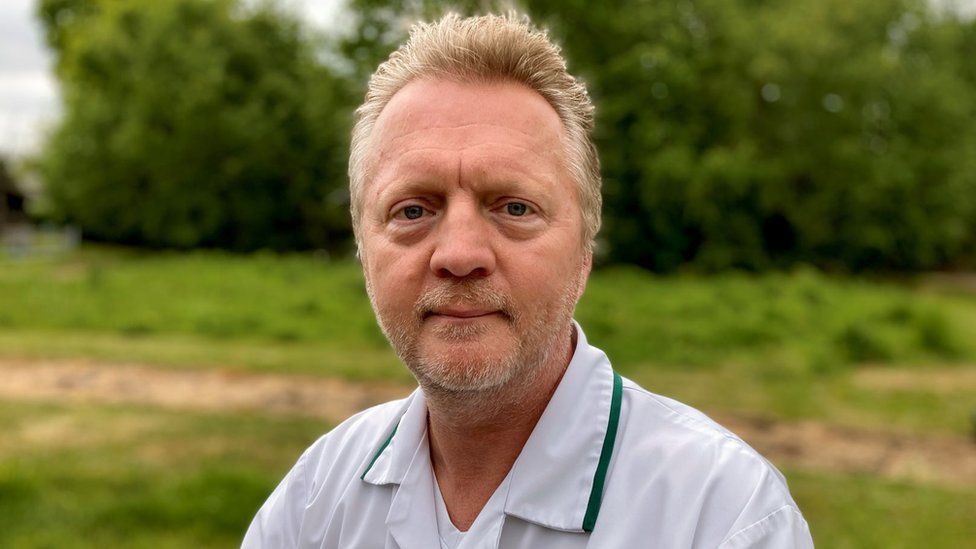 An occupational therapist said using mindfulness to cope with his chronic pain has had a "massive effect" on his mental health.
Carl Finn, 56, from Horsford, Norfolk, said he is waiting for an operation on both his neck and his wrist.
A BBC survey found 28% of people in the East of England are living with chronic pain.
He said he has had pain for 25 years and does "exercises throughout the day" in an attempt to ease the problem.
Chronic pain is when the agony carries on for more than 12 weeks, despite medication or treatment.
The BBC research found that across the UK, one in four adults aged between 16 and 75 (26%) are living with chronic pain.
Mr Finn, who works at North Walsham Hospital, said he had a skiing accident when he was a teenager, which was made worse during his time in the Royal Air Force.
He said: "When I was really struggling at work one my managers suggested mindfulness.
"It had a massive effect on my mental health, these physical problems don't come in isolation, there is always a mental health element to it."
Oxford University's Professor Willem Kuyken, director of the Oxford Mindfulness Centre, describes mindfulness as "having the greater ability to be in the present moment, without judgement, but with curiosity, kindness and care".
In short, it stops the feeling of your mind being "full".
Mr Finn said his job was also "a fantastic distraction from the daily pain".
"We've got a lot of people who are very old and have a lot of conditions and it puts my issues into perspective," he added.
Ian Semmons, founder of Action on Pain, based in Terrington St Clement, Norfolk, said there was "a long waiting list for psychological support" and those with chronic pain often have to take action themselves.
He said: "It's about having a positive attitude, I get up in the morning and think about what I can do, as opposed to what I can't do.
"If someone is not getting effective pain management there can [then] be other conditions as well".
In a statement, NHS England said: "The NHS is recruiting more clinical pharmacists and trained staff based at GP surgeries, so patients can access specialist care, including offering alternatives to medication where this is appropriate".
If you, or someone you know, have been affected by chronic pain, the BBC Action Line has details of organisations that may be able to help.
Related Internet Links
The BBC is not responsible for the content of external sites.