Picture hung on hall wall at Harleston could sell for £50k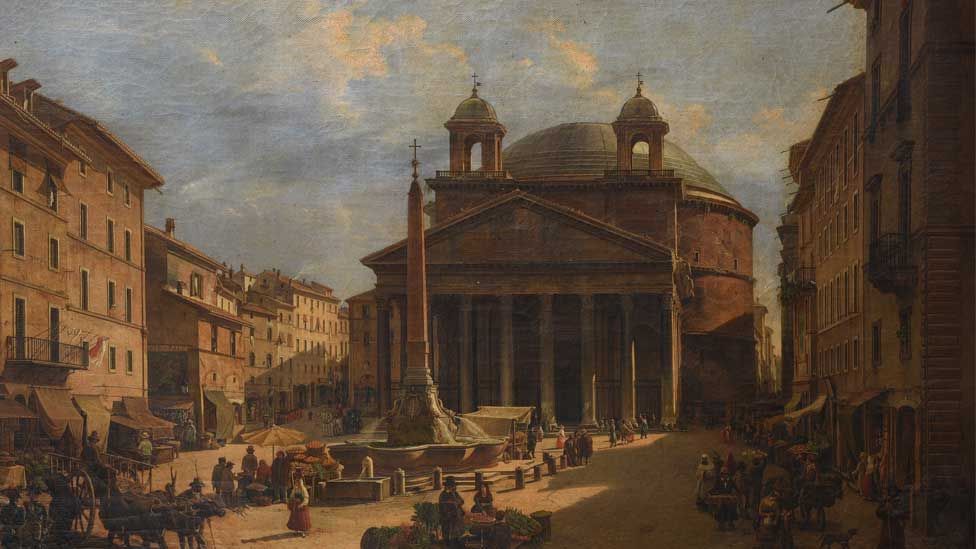 A 19th Century French painting which hung unnoticed on a family's hall wall for nearly 60 years could sell for up to £50,000 at auction.
The artwork of The Pantheon in Rome by Jean Victor Louis Faure was bought in 1965 by Maj H Mosse of Mendham Priory, in Harleston, Norfolk.
His son said he was surprised to learn it is an "important re-discovery" by an artist whose works are rarely for sale.
Auctioneer Brandon Lindberg said it was in "untouched and original condition".
The oil-on-canvas painting measures 1.21m by 1.72m (3.9ft by 5.64ft) and had a "prominent position" in the priory's hall.
But Maj Moore's son - who wishes to remain anonymous - said: "For the most part, it was just seen as an impressive picture occupying a large wall space with the occasional glance to acknowledge its existence."
He only really noticed it when the rest of the house had been emptied.
"This piqued my interest to find out a little bit more about the artist Jean Victor Louis Faure, as obviously, I had never thought of asking my parents during their lifetime," he said.
Mr Lindberg, its head of British and European pictures, said: "It is rare to find a work on this scale and age in such untouched and original condition.
"Faure's work only occasionally comes on the market and the most comparable example to this sold over a decade ago for in excess of £200,000, which is still the record price for the artist".
The artist was born at the 18th Century and specialised in views of the Italian landscape.
Related Internet Links
The BBC is not responsible for the content of external sites.