'I hope the gastric bypass works where dieting and slimming groups failed'
By Nikki Fox and Kate Scotter
BBC News, East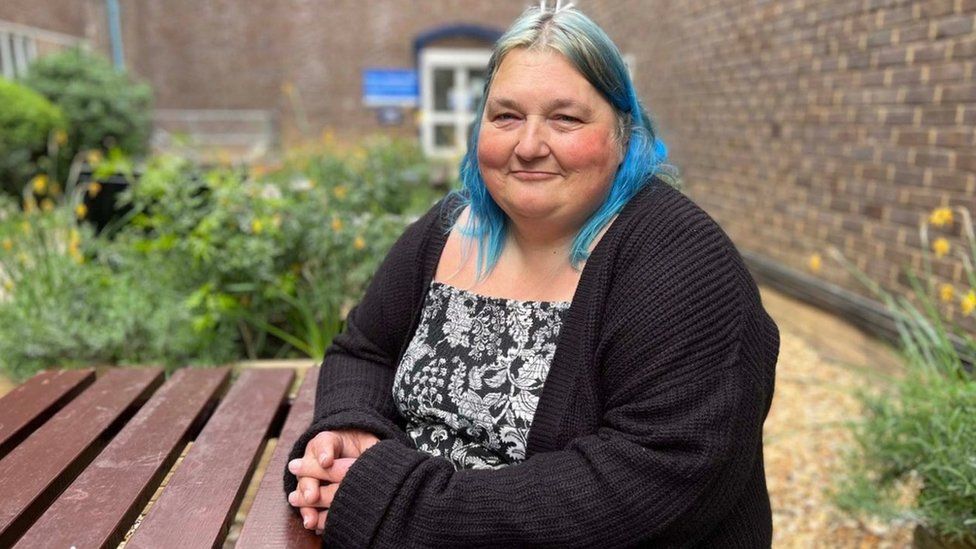 "I thought I was coming to an end to be honest," said Penny Browne, "[and] that I wasn't going to see many more years,"
The 54-year-old's weight rose from 10 stone (64kg) at age 30 to 23st 7lb (149kg) at her heaviest.
"I thought I wasn't going to see my children grow up, never mind my grandchildren."
Her weight gain has been accompanied by the onset of asthma, high blood pressure and the need to wear a sleep apnoea mask at night.
"I was very worried," the grandmother-of-four, who lives in Norwich, said.
She said her partner of 23 years, Ian Gooch Woodhouse, was also worried about her health, as were her three children.
"I tried every diet under the sun," Miss Browne said. "It's heart-breaking not being able to get the weight off.
"I feel like I'm failing all the time. People think I don't care and that I'm happy being this way but I'm not."
After trying dieting, calorie-counting, slimming groups, fasting and a plethora of juices and shakes, she decided enough was enough and spoke to her GP about having a gastric bypass just before the pandemic.
"I couldn't see any other way out other than the drastic option," she said.
"Sometimes we have to go to extreme lengths to get what we want."
After a wait of almost two years, Miss Browne underwent surgery at Luton and Dunstable University Hospital's specialist centre for obesity treatment last week.
People are eligible for weight-loss surgery if they have a body mass index (BMI) of above 40, which would roughly be above 15st (95kg) for a woman and 16st (102kg) for a man, said the hospital's bariatric consultant Doug Whitelaw.
They also have to have other medical conditions including type-2 diabetes, disruptive sleep apnoea, joints and/or back pain, and must go through a non-surgical weight-loss programme first.
"Weight-loss surgery could be construed as extreme but what we know is that there really aren't any other systems or treatments which actually produce the same levels of weight loss," he said.
"We've made it a very routine operation and we've improved the safety profile so we're very confident that we can get our patients through the process with minimal or no complications."
Before the Covid pandemic, his hospital was carrying out about 400 procedures annually. But Mr Whitelaw expects more than 1,000 this year because of a lag in referrals during the pandemic.
The hospital could do even more operations if it had the funding, he said.
Having had the surgery, Miss Browne's stomach has been significantly reduced.
For the next fortnight she will only be able to eat yoghurt drinks.
For the eight weeks after that, she will eat soft foods such as mashed potato.
From then on, she will be able to enjoy normal foods, but only in child-sized portions.
The day before the operation, she said she shed a few tears, questioning whether it was the "right thing" to do.
She spoke to her daughter Jazz Hotson, who, like Miss Browne's other two children, was concerned about the operation but thought her mum was "very brave".
Ultimately Miss Browne, who is a full-time carer for her partner, decided it was what she wanted and she hopes it will improve her lifestyle, health and happiness.
"A healthier me has to be the right thing," she said. "It's a major step to take and massive life change after but it has to help in the long run and improve my health."
Miss Browne's fears and hopes are emotions Jenny Evett remembers well.
She underwent weight-loss surgery seven years ago.
"It's changed me beyond [how] I could imagine," she said.
Before her gastric sleeve operation at Luton and Dunstable University Hospital, she was 22st (140kg) at her heaviest and wore a size 28 dress when she married husband Frank 11 years ago.
She is now 11st 6lb (73kg) and wears a size 14.
Mrs Evett, 53, from Bletchley, near Milton Keynes, said she "tried everything" herself to lose the weight, including slimming groups, but without success.
She tells of a sense of "humiliation" she felt at her previous size. She said it felt "awful" and admits to avoiding her old wedding photographs.
"I was very depressed and fed up, and used to hide behind a lack of confidence," she said.
Mrs Evett said her life would have been "miserable" if she couldn't have the operation and was "extremely grateful" she got the opportunity.
"I can remember the day of my surgery, I went skipping down to the theatre.
"When I woke up I couldn't believe I had had the surgery, I felt great and I knew it was the start of a new beginning for me," she said.
It has improved her mobility, health and confidence, she said.
She now keeps her old wedding dress as a reminder of what she has achieved.
"I'm very proud of myself," she said.
As for Miss Browne, she is currently recovering from the operation at home.
The operation went well and although she is pain and feeling tired, she said, she is "feeling good" and looking forward to the future.
Once recovered, she hopes to be "healthy and happy and to be a better me".
She said: "I am most looking forward to just having a normal life without being tired and in pain all the time.
"My health will be improved and I will be able to run around with the grandkids."
Related Internet Links
The BBC is not responsible for the content of external sites.