Dustbin fan from Caister documents interest with collection of photos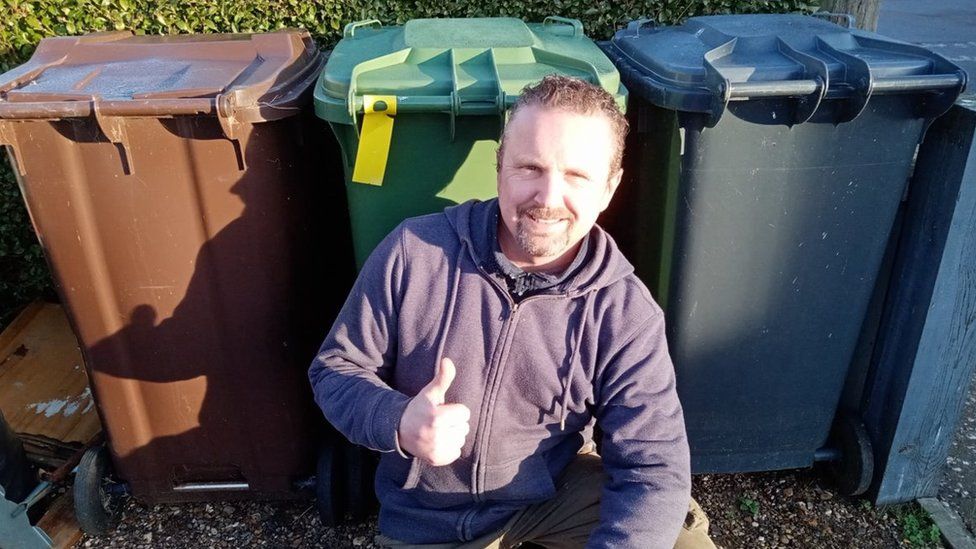 A man with a life-long love of dustbins has documented his passion in a collection of photographs.
Dave Clark, 51, from Caister, Norfolk, said he wanted to be a bin man as a child, but now preferred to look at bins - and occasionally stand in them.
"One of my favourite bins is decorated like an ice lolly - it makes you want to litter-pick just, so you can use it," he said.
"I genuinely love a nice bin, and there are so many different types."
Mr Clark explained: "I think it all started back in the '70s when I got a yellow bobble hat and pretended I was a bin man.
"And my dad used to take me to the tip, which I just loved."
Bin designs and colours have changed over the decades, but he remains fascinated by this everyday item.
"I'm actually very lucky as my job brings me into contact with lots of different bins," he said.
Mr Clark is self-employed and does many things, including window-cleaning and gardening.
"I have a little stepladder, and I will climb in and stand in bins to weigh the contents down when I've filled them with garden waste - people are always surprised how much more you can get in a bin once you've done that.
"Going to the dump is still one of my favourite things. I just love looking at the bins there."
One of his favourite bins, decorated like a Fab ice lolly, is at Thrigby Hall, near Great Yarmouth, while a picnic area at the same venue was "just lovely, as there were bins all over the place, and you didn't have to search for them - they were just there".
Most of the photographs of bins were taken in East Anglia, but when he travels further afield, he is still on the lookout for local bins.
"I took a picture of a really long line of dozens of bins outside a leisure complex near Derby. I couldn't believe how many there were - it must have been a nightmare when it came to emptying them," he said.
He recently made a video collating some of his favourite images, which he called "Best of Bins".
"I know my hobby is a bit random, but I have a genuine interest in bins - and it's really just a bit of fun," he said.