Norfolk and Norwich Hospital University Hospital expands virtual ward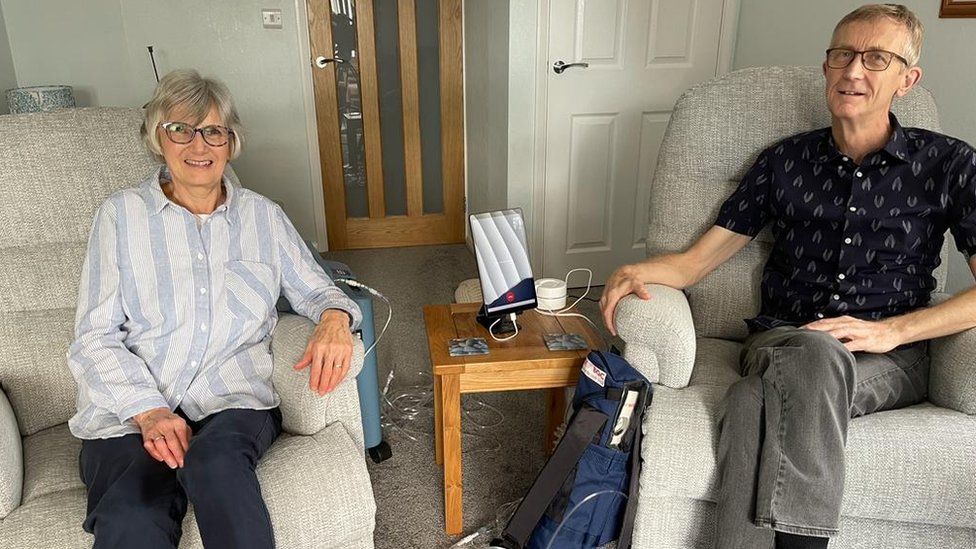 A hospital looking at different ways to ease pressure on beds is to expand its virtual ward.
The Norfolk and Norwich University Hospital (NNUH) is among the first in the country to use technology to help patients continue treatment at home.
The hospital said some 40 patients were currently receiving virtual care.
Medical director Prof Erika Denton said it meant resources and staff could be better deployed to patients with more complex medical needs.
David Whitlock, 67, from Diss, who spent time in the hospital after being diagnosed with serious Covid symptoms, is now being cared for remotely.
'You've got to fight this'
Mr Whitlock has non-Hodgkin's lymphoma, so even though he is double-jabbed, his immune system is low.
"I remember one consultant getting down by the side of the bed and just simply saying 'You've got to fight this,'" he said.
He was admitted to the NNUH on 11 October and three weeks later was sent home to continue his treatment.
He has spent five days of the past week hooked up to oxygen.
An armband monitors his vital signs - body temperature, pulse rate, respiration rate and blood pressure - sending the information digitally to the hospital.
His observations are then assessed by medics and Mr Whitlock receives twice-daily calls from a nurse.
Virtual ward nurse Rose Cary, who has also worked as an emergency ward nurse said it was very important to keep bed capacity available.
She said being able to get patients home early "but still have that continuous monitoring" was "a great situation for everyone to be in".
Mr Whitlock's wife Carol, 67, said she was concerned initially about the hospital treating her husband from home.
"I was a bit surprised, I guess. Was I going to cope? Would he get the support he needs or is it all going to be down to me?" she said.
"But actually, as it progressed, all my fears were allayed."
Mr Whitlock said he, too, had to be persuaded about moving out of the security of the hospital.
"But the more I thought about it, the more I liked the idea. The hospital is brilliant but it's not like being at home," he said.
The NNUH has since been delivering equipment to some 40 patients at home.
"It means those patients are not occupying in-patient beds with us, and of course, for most of us, we don't want to be in a hospital bed, we'd rather be at home," said Prof Denton.
"So if we're not in need of active nursing and medical care, this is fantastic."
Related Internet Links
The BBC is not responsible for the content of external sites.