Covid-19: 'Our wedding changed more times than I can count'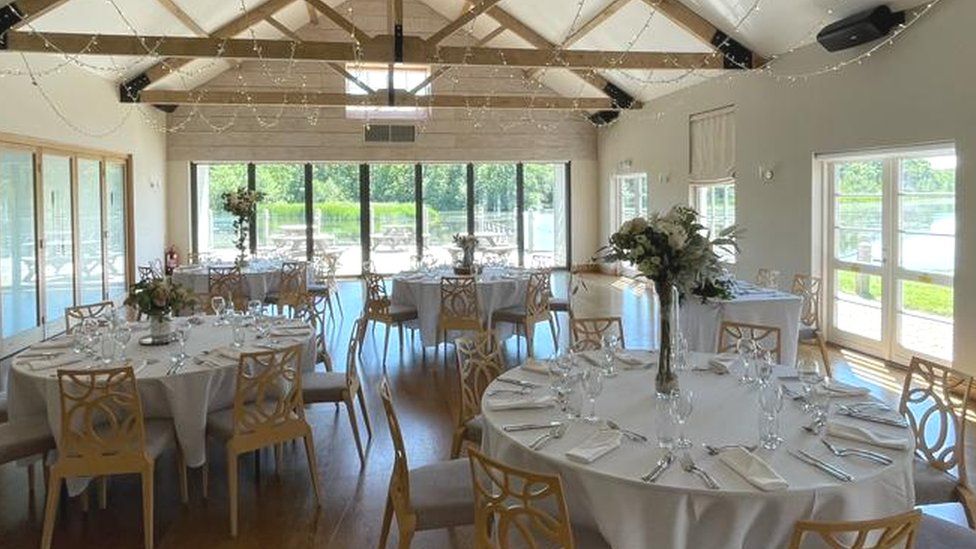 Couples due to get married after Covid restrictions ease from 21 June are facing an anxious wait as cases of the Delta variant rise in the UK. How is the uncertainty affecting the wedding industry and those set to tie the knot?
'It feels a bit like deja vu of last year'
Tommy Router, 30, and his fiancée Caroline Dorman, 29, got engaged in 2019 and were supposed to get married last summer, with a reception at his parents' garden in Hingham, Norfolk.
They had planned a wedding with 130 guests followed by a honeymoon in Bali but both were cancelled as the pandemic broke out and restrictions came into force.
Since last summer, the couple have spent weeks making and then changing various contingency plans for a wedding this July, plans which have seen their guest list scaled back from 130 to 100 and then 60.
The recent increase in cases of the Delta variant, the variant of coronavirus first identified in India, means they are now erring on the side of caution.
They have decided to cut their wedding list even further to 30 guests, the current number presently allowed, in case restrictions fail to be lifted on 21 June.
"It's so frustrating and you don't know what rumours to believe. Lots of sources, lots of chatter," says Mr Router, who grew up in Norfolk.
"We've mentally changed our wedding plans more times than I can ever count and physically changed it more than a handful of times.
"It's really frustrating trying to align suppliers, coordinate our guests, not let people down," he says.
The delays in being able to host a larger reception have also cost them both in time and money.
Their honeymoon to Bali was swapped for Madeira - but has been cancelled after the country was removed from the government's Green travel list.
The alcohol they bought for the reception has now gone past its best-before date.
Ms Dorman, an NHS intensive care nurse working at St Thomas' Hospital in London, says she understands the importance of needing to be Covid-safe having worked through the first wave of infections.
But the past year has not been how they imagined building up to their wedding.
"It feels a bit like deja vu of last year but we obviously hope this year it actually happens."
At the weekend, they made the decision to slash the number of guests to 30, just in case.
"We've just had to make a brutal list, our very, very closest circle - obviously there are lots of people who we dearly love who won't be there," says Ms Dorman, who lives in West Hampstead, London with her fiance.
Mr Router, a marketing and fitness freelancer, is 80% confident they will get tie to the knot next month.
"We're happy with our latest contingency plans but, if those were taken away, who knows what would happen."
Ms Dorman says she is "really hoping the government give us clear cut instructions on 14 June to allow us to finally put plans in place and actually enjoy the last few weeks before we get married".
Potential losses to wedding industry if restrictions do not end on 21 June:
12,500 weddings per week estimated will be cancelled
£325m will be lost in revenue
300,000 people will not return to their jobs
275 tonnes of food will be wasted
75 tonnes of flowers will be left to rot
Nestled on the banks of Ormesby Broad, in Norfolk, is wedding venue, The Boathouse.
Owner Mike Minors says even if restrictions are not lifted on 21 June, his business will survive.
But he says it will be a "nightmare", more so for the couples who have planned their big day.
He is fairly booked-up for the summer but 80% of his weddings are re-bookings from last year's cancellations and says the business has been hard-hit financially.
He has been "very prudent" with finances and says the government grants and furlough scheme have been "life-savers".
He is looking forward to the ending of all restrictions so that his businesses can get back to normal.
"It's incredibly difficult and we do understand the government, we don't want the pandemic to spread but equally, we've got a business to run and we're going to be losing money if it doesn't happen," says Mr Minors.
'Just want to get married'
Caroline Gould, of The Wedding Planners, based in Snape, Suffolk, organises weddings across East Anglia.
She says the past year has been "challenging" for both her couples and her firm, which has postponed some 30 weddings, some more than once.
She estimates about 50,000 weddings are waiting to take place over the next couple of months; "a huge backlog" for suppliers and the industry to get through.
"We've spent a lot of time postponing and postponing again. We felt like we were coming out of things only to have the rug pulled from under us again.
"There's a lot of people waiting to have the wedding they have planned. Right now they can have a wedding for 30 guests, but that's not what everyone wants".
"We're cautiously optimistic about the coming months. It feels positive."
However, she remains concerned some couples and venues will only have a week to ensure they abide by any new guidelines, with the government making its announcement a week before 21 June.
"Flowers need to be ordered, food needs to be ordered. There's a lot of preparation that goes into a wedding. We're good, but we're not that good!"
Ms Gould adds it has been a challenging year.
"The emotional side does come into it in a normal wedding planning sense; even more so when we're postponing weddings and some of our couples have found it really difficult.
"They just want to get married. It's been a tough year."