Elections 2021: Tory Giles Orpen-Smellie wins Norfolk PCC election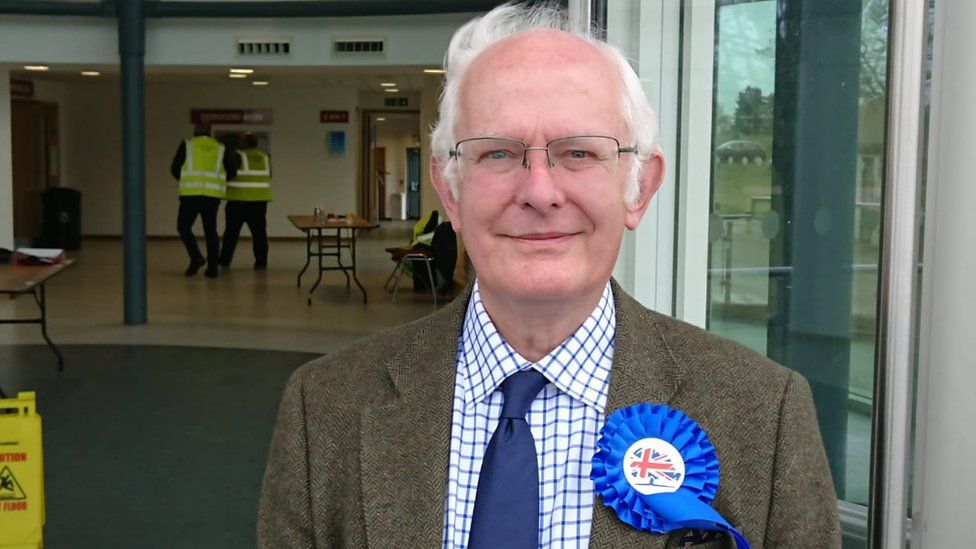 Conservative candidate Giles Orpen-Smellie is the new Norfolk police and crime commissioner (PCC).
Mr Orpen-Smellie won after voters' second choices were included when no candidate polled more than 50%.
In the first count, he led the contest with 45.1% of first votes and secured a total share of 63.3% when the second choices were added.
Labour's Michael Rosen had 22.1% in the first count and increased his share to 36.7%.
The candidates eliminated after the first round were Liberal Democrat John Crofts in third place with 13.7%; the Greens' Martin Schmierer, who polled 10.2%; and the independent candidate David Moreland with 8.9%.
People who voted for the three eliminated candidates as first choice saw their second choices brought into play.
Under the supplementary vote system, second choice votes are only used if they are for the remaining two lead candidates.
Mr Orpen-Smellie, who lives in Fakenham, is a former Army officer who served with the Parachute Regiment for 34 years.
He is also a member of the Ministry of Justice's War Pensions and Armed Forces Compensation Tribunal.
He will be taking office on 13 May.
Lorne Green, who was elected PCC for the Conservatives in 2016, did not seek re-election this time.
PCCs oversee the work of their local police force.
Earlier in the count, organisers threatened to stop the process as some members of the political parties failed to observe social distancing.
A loudspeaker plea for compliance was issued at the Norfolk Showground Arena, chosen to hold the count because of its spaciousness.
BBC East's political correspondent Andrew Sinclair said "a rather exasperated person said 'please observe two metres or we will have to stop the count'."
He said one person told him "we had real problems with some of the candidates and their supporters yesterday when it came to social distancing".
"They seemed to think it didn't apply to them," he said.
Some of the ballots for the Norfolk County Council elections were counted there on Friday.
Related Internet Links
The BBC is not responsible for the content of external sites.