Norwich peregrine falcons caught in battle with red kite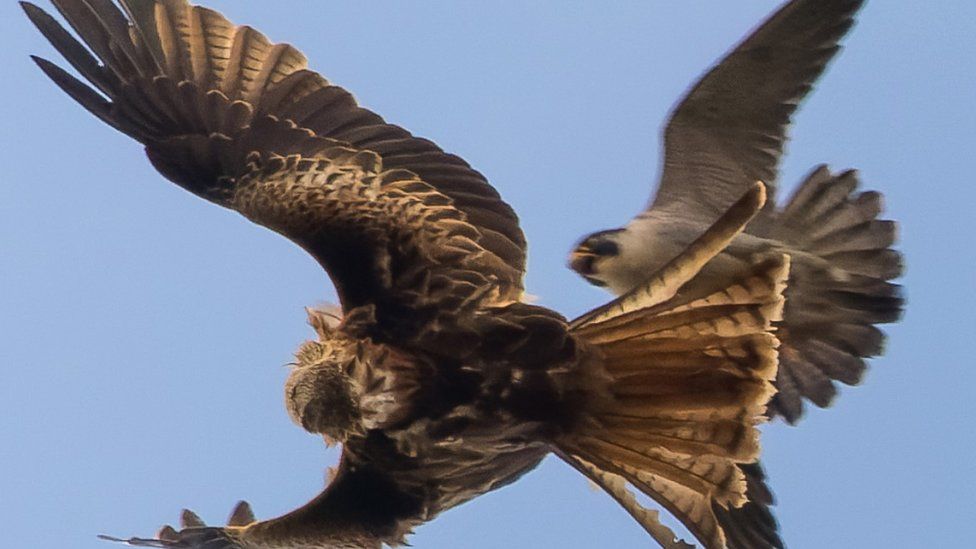 Peregrine falcons have been photographed in a mid-air battle, protecting their chicks and food from a scavenging red kite.
The falcons hatched four chicks last week in their Norwich Cathedral nest.
Wildlife photographers Chris and Kim Skipper watched as the pair took it in turns to distract the kite from going near the nest, and swooped down on the much larger predator to drive it away.
Mr Skipper said it was likely the kite wanted food left in the nest.
The protected birds of prey hatched the latest brood last week and have been taking it in turns to stay with them, while the other hunts for food.
Seeing the red kite circling above the spire would have been concerning for the parents, Mr Skipper said.
"I've never seen a kite so close to the cathedral nest before, and the problem was that the male bird was alone with the chicks at the time," he said.
The kite's wingspan is about twice that of a peregrine - and male peregrines are smaller than females - so the intruder was significantly larger.
"The male had to make a decision and he knew the kite probably wanted the prey that was in the nest to feed the chicks - the kite would have taken the chicks, probably, but the starling carcass was an easy meal," Mr Skipper said.
The male took the prey up to the spire of the cathedral.
"It was a bit like an offering - this is the kill, this is what you want," he said.
The male had been calling the female back to the nest and she arrived, swooping down towards the kite.
"She was dive-bombing the kite from a height. If peregrines can get height, they can usually see things off," said Mr Skipper.
He said the falcons use their talons "like fists" and can easily break another bird's neck, so the kite was having to roll over to try to defend itself.
In the end there was no contact.
"The kite couldn't get away fast enough when it realised what was happening," he said.
It has been a busy week for the peregrine pair, defending their nest.
Before the kite arrived, a buzzard had to be seen off as it too was circling the nest, while stunning photographs taken a few days before the chicks hatched show the peregrines being bullied by gulls, which are also larger and managed to steal a pigeon caught by one of the falcons.
Mr Skipper said the four chicks are currently doing well in their spire-top nest.