Covid-19: Norfolk and Norwich University Hospital requests military help
By Laurence Cawley
BBC News, East
Hospitals across England are facing an "unprecedented" struggle against Covid-19. At one hospital, staff could soon be backed up by combat medical technicians and furloughed council employees.
"We've never had the military help out here before," says Prof Erika Denton, the medical director at the Norfolk and Norwich University Hospital.
"This is the most challenged the NHS has ever been. It is unprecedented."
About one in six of the 9,000 staff at the hospital is currently either off sick or having self-isolate because a member of their family has coronavirus.
The hospital itself currently has more than 250 patients with coronavirus. That is three times the number of patients who were in the hospital during the previous peak in April.
The intensive care unit, usually able to take about 20 patients, currently has 30.
Of those 250 patients with coronavirus, 70 have been in the hospital for longer than 14 days.
"It is a big number," says Prof Denton, "and we're expecting that number to go up."
Against this backdrop, the hospital has appealed for volunteers to come forward to pitch in.
The appeal has been made both to former NHS personnel who can return to frontline work and to those in the general populace capable of taking on non-clinical roles to free up clinical staff.
Among the organisations to have responded is the armed forces.
It is understood 30 military personnel with healthcare skills could, if the Army authorises it, go in to the hospital.
"We have [requested] help from military colleagues," says Prof Denton. "They are trained a bit like our healthcare assistants and will be there to help our clinical teams."
You might also be interested in:
An Army spokesman said: "The MOD has received a request from NHS East of England under the Military Aid to Civilian Authority process.
"We are working hard to identify where we can most effectively assist other government departments and civil authorities."
It is understood that, behind the scenes, the Army is making preparations to deploy a composite team - drawn from a number of locations - of combat medical technicians to the hospital if and when the move is authorised.
Some of those medical technicians are likely to come from the Colchester-based 16 Air Assault Brigade, which is home to 16 Medical Regiment.
Norfolk County Council, too, plans to help out. The BBC understands about 200 staff could be deployed in the local NHS.
Andrew Proctor, leader at the council, said: "We know we can provide resources. We've got furloughed staff and we've got people from services which are currently suspended and we've got people who can assist in non-clinical roles."
Some staff have already been approached by email asking them about volunteering at the hospital and discussions between members of staff and their managers are currently taking place.
But some of those staff approached told the BBC they had yet to be told exactly what they will be doing.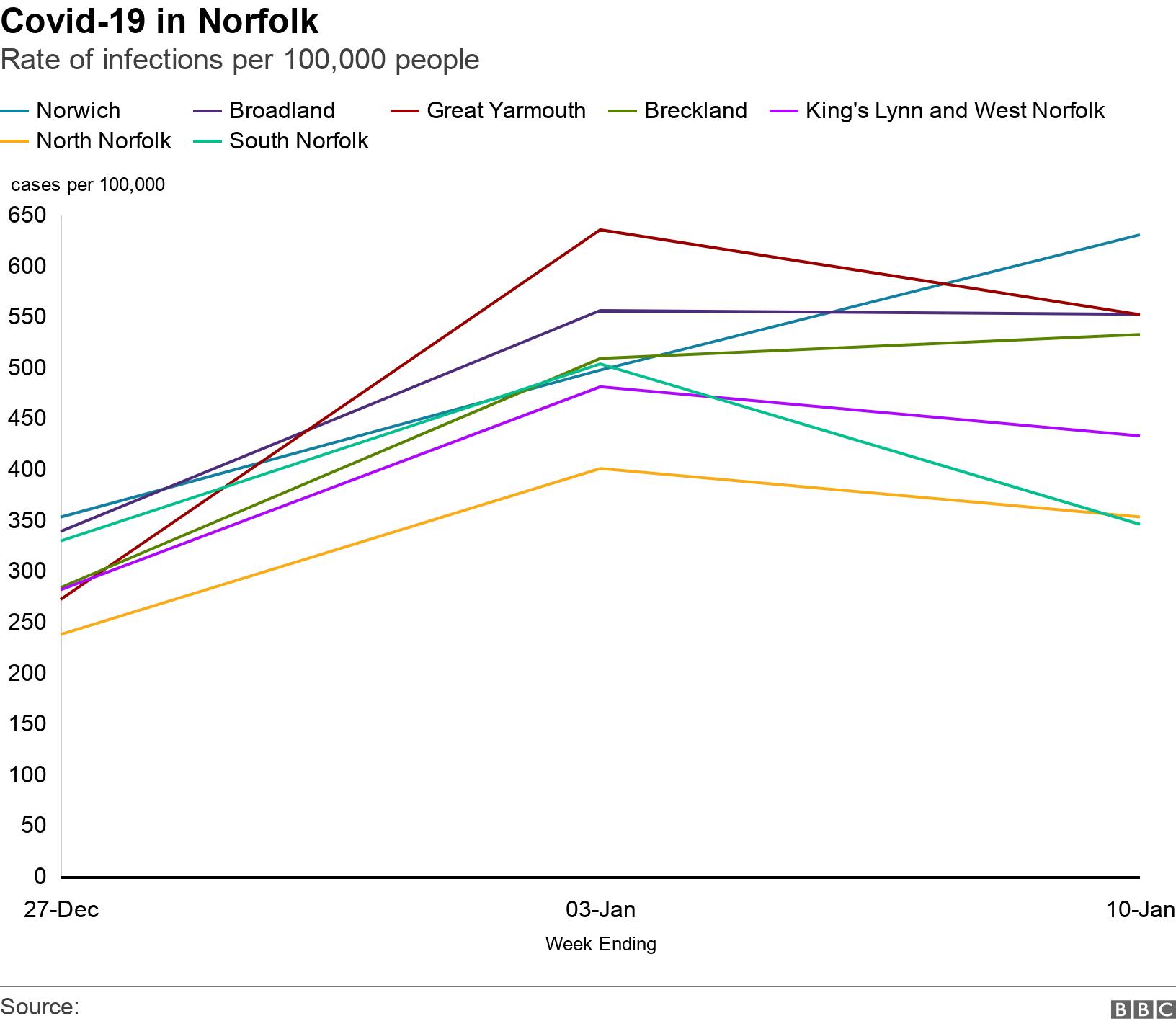 The Norfolk and Norwich University Hospital is not alone in seeking outside help. A group of Suffolk firefighters are currently working to support the ambulance teams - following in the footsteps of Army colleagues last year.
On that occasion, 60 soldiers from the Norfolk-based 1st The Queen's Dragoon Guards took on hospital transfer work to free up paramedics in their frontline duties.
One of those involved was Trooper Jake Tredgett, who grew up in Norwich and studied Uniform Public Services at City College Norwich.
He said: "I'm really pleased to be involved. I did feel a bit overwhelmed initially, but that passed once I was fully briefed and knew what was expected of me.
"I grew up in Norwich and Norfolk is my home, so I'm really proud to play my part and help my local community."
The BBC is not responsible for the content of external sites.