Blickling Hall: American man shares gingerbread house creation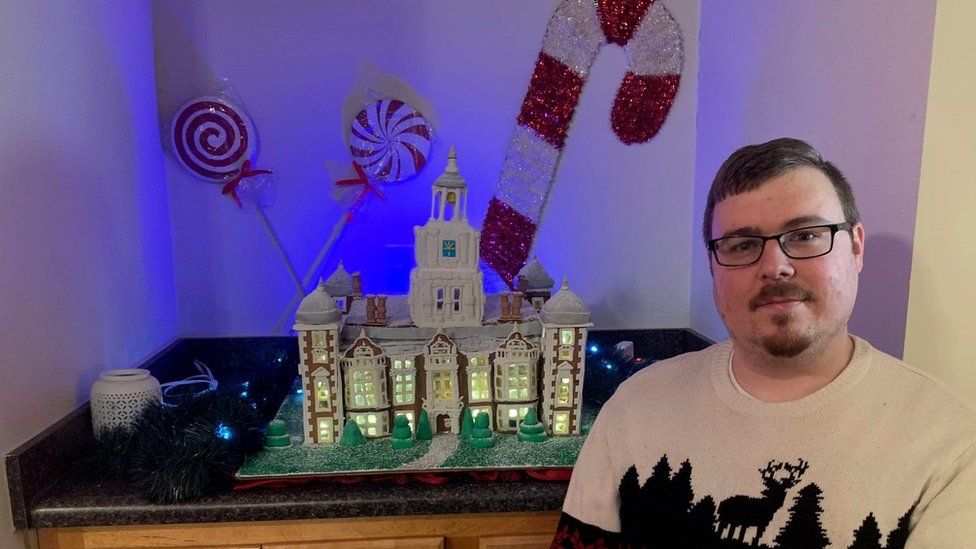 An American man said he was "blown away" by the public response to his recreation of an English stately home using gingerbread.
Eric Becker, 29, from Memphis, Tennessee, shared his "100% edible" design of Blickling Hall, in Norfolk, on a Norwich community Facebook page.
"After I posted it I was blown away by the kindness of people," he said.
Mr Becker spent about 60 hours making the house, which he has not visited in real life.
Mr Becker, who teaches French and Spanish, said he was inspired to make gingerbread houses by watching Mary Berry on the Great British Bake Off on BBC America.
He said he decided to recreate Blickling Hall, near Aylsham, because he had "always been interested in British country houses and I was looking for houses to replicate and Blickling just stood out as a particularly stunning house".
Mr Becker said he was now thinking of visiting the hall next year, should it become safe to do so.
"I have always wanted to go to the UK and so as soon as it is possible I would love to go. The first stop would be London but next stop would be Blickling," he said.
Blicking Hall has been owned by the National Trust since 1940.
Blickling Hall was built by the surveyor Robert Lyminge for Sir Henry Hobart between 1616 and 1626, on the site of a late medieval moated hall which it largely replaced.
The red brick country house has a seven-bay front and square corner turrets.
One of its staircases was closed for more than 70 years until concerns over its "structural integrity" were resolved.
It is thought that Anne Boleyn, the queen of England from 1533 to 1536 and second wife of King Henry VIII was born on the Blickling Estate.
In more modern times, it has served as a filming location, including for the BBC comedy series I'm Alan Partridge, in an episode where Alan takes his girlfriend Sonja to what he told her was Bono's house - but was in fact Blickling Hall.
Related Internet Links
The BBC is not responsible for the content of external sites.