Covid-19 tiers: Norfolk placed in tier 2
Norfolk will be placed in the second tier of restrictions when England's second lockdown ends on 2 December, it has been announced.
Up to six people can meet outdoors, and pubs and restaurants must shut at 23:00 GMT.
Prior to England's second shutdown, Norfolk was in tier one, which was the lowest level of Covid restrictions.
Many have reacted with disappointment that Norfolk has not been placed in tier one, along with Cornwall, the Isles of Scilly and the Isle of Wight.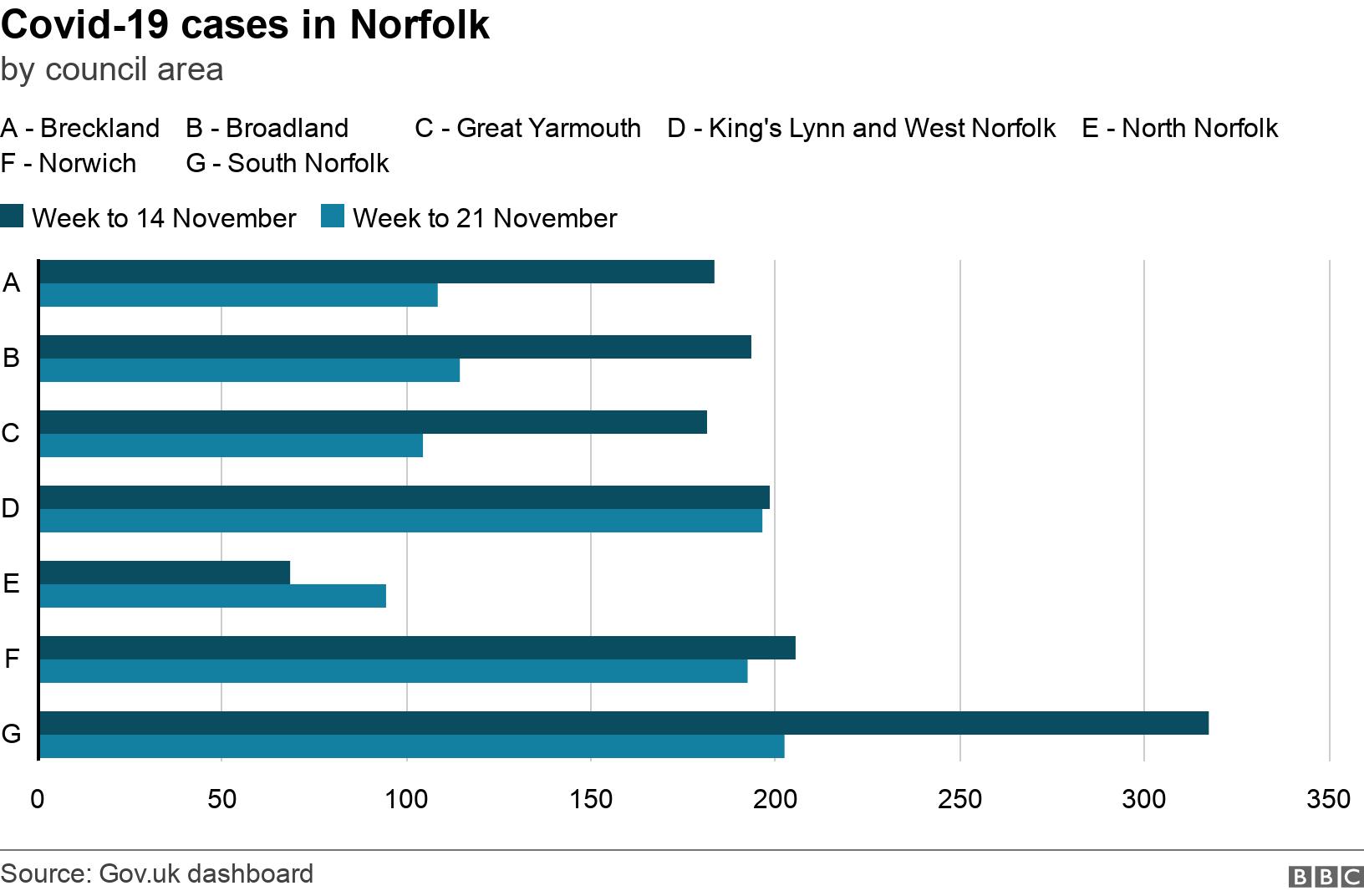 Norfolk County Council said there had not yet been a "sustained" decline in the virus, with the government reaching its decision based on rates in the over 60s and the capacity of hospitals, among other factors.
Cases among the over 60s are high at 100 per 100,000 and are increasing in South Norfolk and Norwich.
Currently, 162 people are being treated for coronavirus in Norfolk and Waveney hospitals, compared with 141 on 13 November.
There were 1,100 coronavirus cases in Norfolk in the week up to 21 November, down from 1,345 in the previous week.
'Many will find difficult'
At one point the case rate in South Norfolk had tripled week-on-week.
County council leader Andrew Proctor said: "People in Norfolk have worked so hard to pull together to protect each other and to protect our county and for this reason we had hoped we would be able to move into tier one from next week.
"However, in reaching the decision the government has looked at how the virus is progressing, rates in the over-60s and the capacity of local hospitals and concluded that the risk posed by household visits remains too high.
"The numbers are beginning to fall but we are not yet seeing a sustained decline in the virus.
"That means that we will move into tier two from next week, a decision that we accept but one that I know many people will find difficult."
'Businesses must have support'
Conservative North Norfolk MP Duncan Baker said he was "hugely disappointed" about the tier two decision and said he would be making the case for Norfolk at a ministerial meeting later.
"Clearly the government has taken a very cautious approach," he said.
"What appears to have not gone in our favour is the percentage of those taking tests and being positive is too high and the case rate in the over-60s is too high."
He said he would tell ministers that the majority of areas were improving and if the infection rate continued to fall, Norfolk should return to tier one as soon as possible, at the first review on 16 December.
Businesses affected by the decision must be given support, he added.
Norfolk Chief Constable Simon Bailey said: "While we might all have our own opinions on these measures, we must take personal responsibility for making sure we adhere to them, the fact remains they are in place to protect us all and we need to follow them.
"As police, we don't make the rules, we enforce them and I would urge each and every one of you to do the right thing and play your part in being risk aware, protecting yourselves, your loved ones and the county as a whole by sticking to the regulations."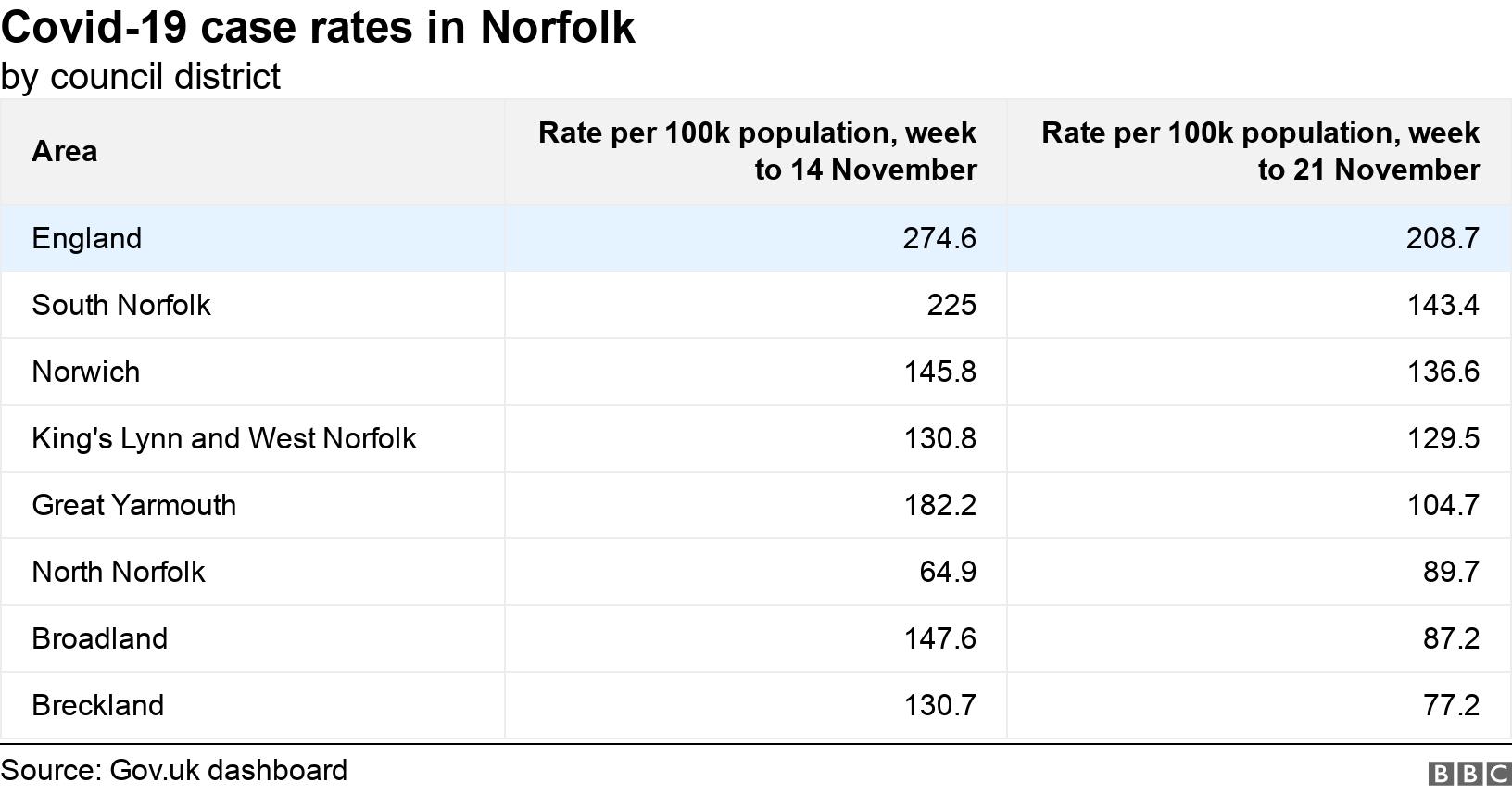 Under tier two, pubs and bars must close unless operating as restaurants.
Businesses which can open include non-essential shops, gyms and leisure centres, hairdressers and cinemas.
Up to 2,000 spectators can attend Carrow Road to watch Norwich City play, and grass roots sports can return.
It was among the first Championship clubs to play in front of a crowd since the pandemic.
Related Internet Links
The BBC is not responsible for the content of external sites.