Admiral Nelson statue sprayed with graffiti in Norwich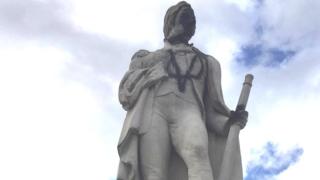 A statue of Admiral Lord Nelson has been defaced with spray paint.
It is on grounds owned by Norwich Cathedral, which said that "although a national hero, [he] was also like all of us flawed in some ways".
According to Topple the Racists, Nelson was a supporter of slavery. This claim has been rejected by the Nelson Society, which said his overriding ethos was "service to his country".
Police have said they are investigating the defacement.
A "V" with a circle has been sprayed on the front, a symbol seen as being associated with anarchism, and the face of the statue has been painted black.
Norwich Cathedral said in a statement the damage was done in The Close on Saturday night.
The statement also said the dean was committed to a review of "the place of historical figures memorialised in the cathedral and grounds".
Statues of historical figures with connections to slavery have been particularly controversial in the wake of the protests sparked by the killing of George Floyd.
In Bristol, activists recently tore down a figure of slave trader Edward Colston before dumping it into the river.
Norwich City Council said its contractors were assessing the damage to the Grade II listed statue, to see what options were available.
"We will be working closely with Norwich Cathedral on what happens next," it added in a statement.
Topple the Racists has been asked to comment.
Find BBC News: East of England on Facebook, Instagram and Twitter. If you have a story suggestion email eastofenglandnews@bbc.co.uk