Sheringham: Man trapped in rocks 'rescued toddler from sea'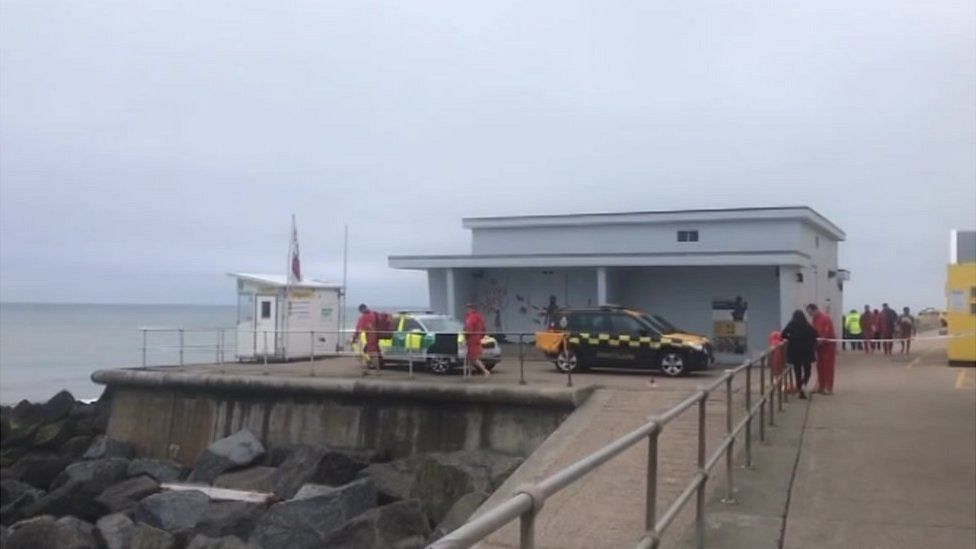 A man who had to be rescued after he got trapped in rocks had saved a toddler from the water as the tide came in on the Norfolk coast.
The man, in his 20s, became stuck after rescuing one of his children near Sheringham's east promenade, senior coastguard Tony Garbutt said.
He was up to his neck in the water for several hours and freed by firefighters who cut through the rock.
Emergency services kept his head above water and gave him breathing apparatus.
Mr Garbutt said the man sustained some injuries but they were not serious. The toddler was unharmed.
'Life or death situation'
HM Coastguard and Sheringham RNLI co-ordinated the rescue effort after the alarm was raised at 17:30 BST.
Mr Garbutt said the man had been leaving the beach with his family when one of his children slipped. Then as he stepped over to grab the child the man slipped and became stuck.
The coastguard earlier described the incident as "a very frightening experience".
Spokesman Sam Stockdale said: "It's such good news that this man has been freed. Everyone worked together on scene to look after the man and also to free him as soon as was practically possible."
Witness Lissy Jackson said she had seen the rescue workers at the scene: "I saw a number of [them] crowded round the rocks attempting to free the man.
"I later then saw two large trucks pull in with equipment to aid in breaking rocks to break the man free."
Retired coastguard station manager Stuart Facey told the North Norfolk News he had been walking his dog when the Coastguard arrived.
"I saw someone obviously stuck in the rocks, it was high tide and water was coming over him so it was a very scary situation," he said.
"I've seen people climb into the cavities in the rocks and the problem is that even if you are able to move a rock to free someone who is stuck, another can fall into its place, it can be a life or death situation."
Norfolk Police, Norfolk Fire and Rescue and the East of England Ambulance Service were also in attendance.
Related Internet Links
The BBC is not responsible for the content of external sites.