Family stuck in car on Norfolk beach after ignoring sign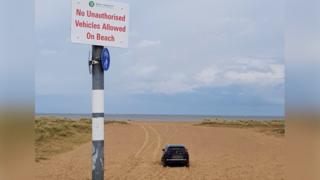 Two adults and three children became stranded on a beach because a driver believed his car "could go anywhere".
The vehicle got stuck a short distance past a sign that reads "no unauthorised vehicles allowed on beach".
The stricken black Peugeot was reported on the sand at North Denes in Norfolk, a protected area for bird breeding.
A Facebook post by HM Coastguard Gorleston said: "The driver, having ignored the sign, said he believed that his car would go anywhere."
Crews were called to reports of a car being stuck on the beach at North Denes, Great Yarmouth, at 15:00 BST on Saturday.
They were quickly stood down once they had checked the occupants were safe and arrangements were made for the car to be recovered.
North Denes is a special protection area and a site of special scientific interest because it supports the breeding of little terns.
About 220 pairs of the rare seabird are seen in dunes along this part of the Norfolk coast during breeding season.