Tesco backtracks on swallow nets at Norwich store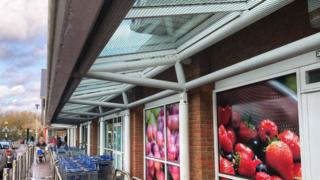 Tesco has said it is to temporarily remove netting which stops swallows from nesting at a store.
After customers complained that nets had been erected above its trolley park at the Harford Bridge store in Norwich, the supermarket said it had listened to feedback.
Chris Skinner, a Norfolk farmer and conservationist, said it proves social media can be a "force for good."
Tesco said nets were placed after complaints about bird droppings.
The supermarket received widespread criticism on social media after it put up the netting at its Harford Bridge store, with many people concerned that the birds could get caught in the nets and die.
The supermarket earlier said it had cleared the back of the store for the swallows to nest instead, but experts said the birds returned to the same spot year after year.
Mr Skinner, who has monitored the Harford Bridge swallows since they arrived six years ago, said they flew 5,000 miles from South Africa to their summer nesting site in Norfolk.
He said he had met store managers on Saturday and "the mesh is going to be taken down on Monday and Tuesday."
"It is terrific result, it's lovely to have a good news story.
"I've never come across social media in that way before and it can be a force for good" he said.
A tweet from conservationist and writer Kate Blincoe calling the netting "not acceptable at all" was retweeted 400 times in just over 24 hours.
The Tesco Tweet said: "We've listened to feedback from customers and are temporarily removing the nets above the trolley bay at our Norwich Harford Bridge Superstore."