Norwich road protesters removed from council meeting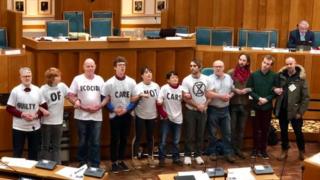 Police removed campaigners from a council meeting after they disrupted it for four hours in protest at a planned new road.
About 20 people linked to environmental group Extinction Rebellion entered the Norfolk County Council chamber, forcing a meeting to be adjourned.
The protest was over plans to extend Norwich's ring road.
Norfolk Police said four people were arrested after refusing to move.
The council meeting at County Hall in Norwich was due to start at 10:00 GMT but was delayed for four hours after the group entered the chamber and began to chant.
BBC East political correspondent Andrew Sinclair said he saw a protester carried out "feet first".
Extinction Rebellion Norwich posted at about 13:30: "Police have moved in on our activists. They are being gentle and respectful thus far."
Earlier, Norfolk councillor Brian Long told the meeting: "Protestors have made their point.
"We have to fix a budget today, this meeting must go ahead.
"This is also drawing attention away other people who came to this meeting with concerns."
The group is opposing plans for a new road, which the council has called the "missing link" to complete the Norwich bypass, joining the A47 to the western end of Broadland Northway.
In December, about 40 protesters from the same group staged a sit-in protest at a council event to showcase options for the road.
Climate protester Andrew Boswell: "We are taking this action at @NorfolkCC because the council needs to realise there's a climate emergency. We've tried to talk to them but they won't listen."
The protesters said the plans should be scrapped as the road would cross the Wensum Valley, a Site of Special Scientific Interest.