Man fined over car fitted with siren in King's Lynn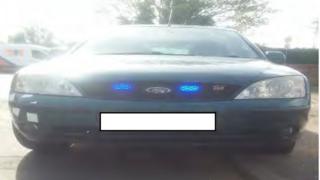 A 58-year-old man who drove a Ford Mondeo with emergency-style blue lights fixed on the front has been fined.
Clive Eglen, of King's Lynn, was ordered to pay a total of £430 after he admitted using a vehicle fitted with a siren.
He was stopped by Norfolk Police in the town last April, with photos showing lights on the car grille and chequered black-and-white transfers on the sides.
Magistrates fined Eglen £300, plus £130 in costs and a victim surcharge.
King's Lynn Magistrates' Court heard Eglen, of Woodwark Avenue, had initially denied a charge of impersonating a police constable, which was withdrawn.
'17-year-old police car'
The motorist had fixed the flashing blue lights to his girlfriend's car, the Eastern Daily Press reported.
According to the paper, Eglen's solicitor Hugh Cauthery said in mitigation: "I don't think any sensible person would think it a police car.
"I have never seen a 17-year-old police car in Norfolk.
"They're usually brand new BMWs, or not far off."
In police photos, security stickers can be seen attached to the front and rear windows of the car; while a peaked cap and high-visibility garment, along with some scatter cushions can be seen on the vehicle's back parcel shelf.