Beatrix Potter: Peter Rabbit first edition sold at auction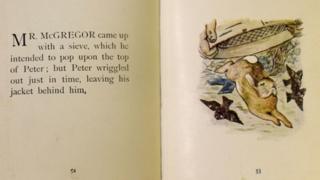 A collection of first editions of Beatrix Potter books - including 1902's The Tale of Peter Rabbit - have sold for more than £3,500.
The collection of children's stories also includes The Tale Of Squirrel Nutkin, The Tale Of Jemima Puddle-Duck and The Tale Of Mr Jeremy Fisher.
They were sold at Keys Fine Art Auctioneers in Aylsham, Norfolk.
Peter Rabbit sold for £720, while AA Milne's The House at Pooh Corner sold for £580.
Potter's deluxe edition of The Tale of Tom Kitten sold for £1,000.
The first editions are the first commercially-produced books - Potter had two runs of the story printed privately, which she distributed to family and friends.
Thirty eight books sold, while 28 failed to sell.
Earlier this week, Robert Henshilwood, head of books at Keys, described the first editions as a "remarkable collection".
"Many people will remember reading these books as children, and it is that familiarity which makes them so collectable," he said.
Beatrix Potter
Helen Beatrix Potter, born 28 July 1866, in Kensington, west London
The children's author and artist was also a botanist and wrote scientific papers on fungi spores
Before Potter wrote her classic books, she drew illustrations for some of her favourite stories, including Alice's Adventures in Wonderland and Cinderella
She was a pioneer in the licensing of her creations for merchandising and created the first Peter Rabbit doll herself in 1903
Potter loved the Lake District and bred Herwick sheep on a number of farms she bought in the area
When she died in 1943, she left 15 farms and more than 4,000 acres of land to the National Trust, an organisation she had supported staunchly during later life
Her home Hill Top Farm was kept exactly as it had been when she lived in it
Source: Penguin Books Limited's Peter Rabbit website