Norwich Anglia Square's tower block plan approved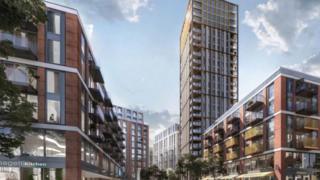 A tower block, shops, cinema and hotel could be built in Norwich city centre after councillors approved plans to regenerate the area.
The £250m redevelopment of the 1960s-built Anglia Square shopping complex faced objections from the Dean of Norwich Cathedral and Historic England.
Developer Weston Homes had said it would make it a "vibrant" location.
Norwich City Council's planning committee approved the development, which includes 1,250 homes.
Iceland, QD and Poundland currently occupy larger stores on the site, which has been earmarked for some form of redevelopment for years.
The council had received more than 700 objections, with many concerned the tower block would have a negative impact on the skyline and could set a "precedent" for other development in Norwich.
There were also claims "gentrification" would displace the existing local community.
The Dean and Chapter of Norwich Cathedral said it welcomed the need for redevelopment but felt the scheme would "dwarf" its neighbours, while Historic England said it would cause "severe harm to Norwich's historic character" and it had already asked the government to hold a public inquiry into the plan.
Some 120 comments in support said Anglia Square and the derelict seven-storey Sovereign House needed a fresh look.
A cinema to replace the one where comedian Steve Coogan chose to premiere his Alan Partridge film in 2013 forms part of the scheme.
The council's head of planning services Graham Nelson said the scheme would have "a significant regenerative effect on the northern city centre".
"The level of economic and social benefits... are considered in these exceptional circumstances to outweigh the harm that would arise from the development - particularly to the setting of many of the existing historic landmarks in the city," his report said.
It is now up to the Secretary of State for Housing, Communities and Local Government, James Brokenshire, to decide if he wants to call the planning application in and hold a public inquiry.