Frank Lockey: Ex-Liverpool footballer died of natural causes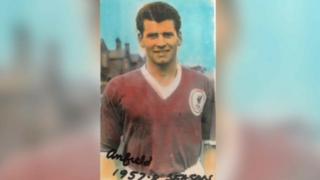 The death of a former Liverpool footballer was due to natural causes and not neglect, a coroner has ruled.
Frank Lockey, 84, who played for the club in the 1950s, was found dead in an armchair at the Julian Hospital in Norwich in August 2017.
His daughter Tina previously said she found him in a "zombie-like state" and claimed he would be "alive today if it was not for the poor care".
Coroner Jacqueline Lake said there was no evidence to support that allegation.
A post-mortem examination found Mr Lockey, originally from Dumbartonshire, died of heart disease and Alzheimer's.
In a statement his family said the coroner's conclusion was "hugely disappointing".
The post-mortem found Mr Lockey had bruises to his hands, hip and leg but the coroner said she "was satisfied these were superficial injuries" from falling.
Mr Lockey was at the Julian Hospital after being sectioned under the Mental Health Act in February 2017 to keep him from harm.
Clinical psychiatrist Dr Hugo de Waal previously described him as having "complex medical needs" including Parkinson's, which meant he was unsteady on his feet and prone to falls.
While alive, Ms Lockey reported family fears of assault against her father to Norfolk Police, but no cause for a criminal investigation was found.
The coroner said she was "satisfied [Mr Lockey's] illnesses contributed to his (aggressive and agitated) behaviour" and that they also led to his falls.
She added "there was no evidence of neglect" or excessive medication and that Mr Lockey was not emaciated.
Ms Lake made no recommendations to the Norfolk and Suffolk Foundation Trust (NSFT) which runs the unit, but said: "I have heard and accept action (over record-keeping) is being taken.
"It is clearly essential patients observations are recorded and evidenced with the action that has been taken and that these are audited."
After the hearing NSFT said: "We have implemented the resulting action plan, which centred on the need for detailed contemporaneous record-keeping and observations."
The trust was the subject of a serious investigation review in May where issues were found in clinical record-keeping at the unit.