Norfolk police officer resigned over Twitter gross misconduct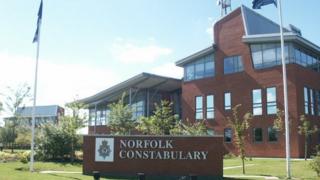 A police officer committed gross misconduct by trying to impede an investigation into his misuse of his Twitter account.
PC Roderick Morrison, 32, worked for Norfolk Constabulary at the time.
Morrison, who was based at King's Lynn and admitted the charge, resigned before a disciplinary hearing on Tuesday.
Chief Constable Simon Bailey told the hearing that had he still been an officer "he would have been dismissed".
The force's professional standards team discovered the disciplinary issue while investigating PC Morrison's use of Twitter after a complaint.
They found he had also been using his police social media account to chat with a member of the public he had met through the course of his duties, before moving the conversation across to his own WhatsApp account.
During their inquiries the team found he tried "to frustrate the investigation into his conduct by attempting to have messages deleted".
He also encouraged the recipient to deny they had received any texts.
The officer's conduct was found to breach the expected standards of professional behaviour.
"Mr Morrison has let the communities of Norfolk down, has let Norfolk Constabulary down and himself down," said Mr Bailey.
The content of the messages was not revealed at the disciplinary hearing.
The former officer did not attend the hearing.