Extinction Rebellion protesters sit-in at Norwich bypass event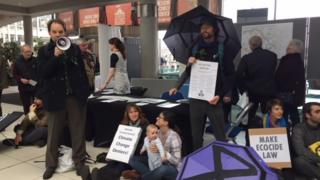 About 40 protesters staged a sit-in at a council event showcasing options for a new road.
Extinction Rebellion climate protesters sat around the Norfolk County Council stall which was displaying options for extending the Broadland Northway.
Organiser Rupert Read said they were prepared to take "physical, non-violent" action to stop the Western Link road, which was a "terrible idea".
The council said people were entitled to express their views about the plans.
The council consultation in The Forum, Norwich, was gauging opinions on four "missing link" options being put forward to complete the city bypass, joining the A47 to the western end of Broadland Northway.
The protesters said the plans should be scrapped as the road would cross the Wensum Valley, a site of special scientific interest.
Green campaigner Mr Read, a former Norwich councillor, said: "Do we really want to destroy this irreplaceable treasure for the sake of a road, arguably not needed?
"[It] is definitely climate destructive and we should be thinking about better alternatives."
Members of the group left of their own accord after three and a half hours and police officers did not turn up to evict them.
Norfolk County Council said building the "missing" Western Link is a top priority.
Martin Wilby, Conservative chairman of the environment, development and transport committee, said: "People are entitled to come along and give us their views.
"I am sure one of those four routes will get built, it will be to the benefit of Norfolk."
The local authority's consultation is running until 18 January.
Mr Read said supporters planned to stage further non-violent protests against the road in the New Year.