Concern as Construction Industry Training Board outsources 337 jobs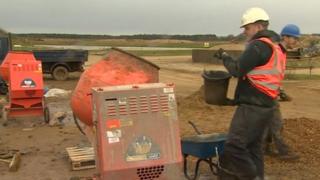 Plans to outsource 337 jobs at the building industry's training body spells the "beginning of the end" of the organisation, a union has said.
The Norfolk-based Construction Industry Training Board (CITB) is to sign a job transfer deal with Shared Service Connected Ltd (SSCL).
Unite said it was "troubling" the board was surrendering "control of key functions" with its outsourcing plans.
CITB said it will help it become "leaner" and "more agile".
The body, which is funded by a levy on building firms and employs 1,300 people, announced plans to move its headquarters from Bircham Newton, Norfolk, to Peterborough in July.
It will sign the outsourcing deal in December, ahead of a transfer of jobs from February, which is being carried out as part of its 'Vision 2020' modernisation programme.
Jobs in HR, finance, procurement, technology, apprenticeship processing and some customer operations will be outsourced.
CEO Sarah Beale said it will "modernise our systems", and allow the body to "focus on our priorities and become a leaner, more agile organisation that delivers the skills needed by British construction".
There are 233 jobs based at Bircham Newton, and all of them are set to be outsourced. The body also has more than 1,000 employees in London, Thurmaston in Leicestershire, Bridgend in Wales and Inchinnan in Scotland.
Unite regional co-ordinating officer Mark Robinson said: "This announcement effectively marks the beginning of the end of the organisation."
He added the union is "strongly making the case" the outsourced jobs should remain at their current base.
The board also announced its construction plant competence scheme has been sold to NOCN Group, affecting 18 workers in Norfolk and a further 14 mobile jobs.
Unite said: "While it is obviously a relief for the group of workers to have their jobs transferred to another Norfolk company, the vast majority of CITB workers do not have that comfort."