Bogus psychiatrist lied on her first day at mental health trust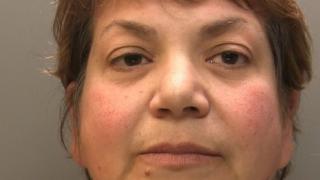 A fake psychiatrist could have been stopped from treating patients on the day she started work at a mental health trust, the BBC has learned.
Zholia Alemi lied to the Norfolk and Suffolk NHS Foundation Trust that she had no previous complaints, misconduct papers reveal.
However, she had a warning from the General Medical Council (GMC) for lying to get approval to section patients.
It took a further four years before Alemi was stopped and suspended.
Family's regrets
The bogus doctor told a fitness to practice hearing she had only signed a form under instruction by staff at the mental health trust because patients would have been impacted by the cancellation of the clinic.
Alemi is behind bars for changing the will of a patient and her medical qualification in New Zealand has been exposed as a fraud.
The parents of one patient, Darren King from Lowestoft, said he could still be alive if the fake doctor had done her job properly.
Mr King drowned in his bath after having a seizure. His family said Alemi refused to carry out their request for a capacity assessment, although they wanted the bath to be removed.
'Multiple complaints'
It has since come to light from Alemi's disciplinary record that concerns were first raised about her conduct and practice by other medical staff in 2010.
She was given two warnings, and conditions were imposed on her.
These were later removed and it was not until more than seven years later that she was stopped from treating patients.
She spent more than a year at the mental health trust, working at a hospital in Oulton Broad in Suffolk.
The GMC conceded the investigation into Zholia Alemi had taken longer than the public expected, because it had "reinvestigated multiple complaints" and "things kept coming out of the woodwork".
A spokesman for the Norfolk and Suffolk NHS Foundation Trust said: "Our trust terminated her contract as a result of safeguarding concerns and reported her to the GMC."
On Wednesday, the trust was rated inadequate by the Care Quality Commission for a third time.