King's Lynn's Klic business hub firm set to miss loan deadline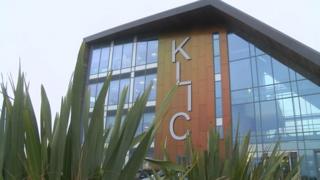 A business agency may have to hand over a new building to a council because it is set to miss a deadline to repay a £2.75m loan which financed it.
Norfolk & Waveney Enterprise Services (NWES) borrowed the money from the district council to help build the Klic business start-up hub in King's Lynn.
NWES ran out of cash after it merged with two other enterprise agencies.
The company said it had a memorandum of understanding for the debt repayment in place before Friday's deadline.
Auditors have expressed doubts over whether NWES, which is based in Norwich, could continue as a going concern.
NWES now faces having to hand over Klic (King's Lynn Innovation Centre) to the lenders - King's Lynn & West Norfolk Borough Council.
The mergers were driven by concerns over the availability of grant funding after Brexit.
'Walk-in rights'
NWES chief executive Jo Clarke said there was "no question" the money would be repaid.
"We're in dialogue with the [council] and are looking at a number of solutions to ensure the taxpayers of King's Lynn get their funds repaid," she said.
Under its previous management, NWES borrowed the money from the council for the hub, which provides premises for start-up companies.
The repayment deadline was set at 30 November, which was when the council, in turn, had agreed to repay Suffolk County Council and the New Anglia Local Enterprise Partnership, after borrowing from them to finance the loan to NWES.
Asked if he was confident the loan by King's Lynn & West Norfolk Borough Council would be repaid, Conservative council leader Brian Long said: "I will be pleased when I see the money in the bank.
"If it's not paid, then the council effectively has walk-in rights if there's a default on the loan and I would be very pleased to see the income stream coming to the council."