Norfolk man who illegally hoarded 5,000 rare eggs jailed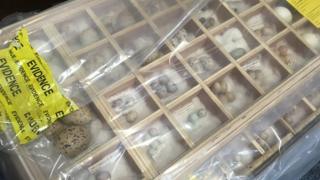 A "one-man crime wave" who illegally collected more than 5,000 rare bird eggs has been jailed.
Daniel Lingham, 65, was spotted "head-to-toe in camouflage gear" picking eggs up off the ground in Norfolk in May.
Police investigators later discovered a 5,266-egg hoard at his home, including specimens from endangered and rare species.
Lingham, of Newton St Faith, Norfolk, was handed an 18-week jail sentence after admitting five offences.
Norwich magistrates told him his collection would be sent to the Natural History Museum.
The RSPB said outside court Lingham had repeatedly plundered some sites to such an extent that no baby birds survived in those locations, while his egg collection was the largest seized since he was last convicted in 2005.
James Burrows, defending, said Lingham had been receiving psychological treatment following his arrest and "almost has an addiction to collecting wild bird eggs".
"His issues started as a young boy... the only way his father would give him praise was if he collected rare eggs," Mr Burrows said.
Police searched Lingham after he was reported by a member of the public in Cawston Heath, Norfolk.
They then discovered thousands of eggs stored in wardrobes, chests and tubs at his mobile home.
The hoard included eggs from species including nightingales, nightjars, marsh tits and turtle doves, the court heard.
Colette Harper, prosecuting, said Lingham had started stealing the eggs within three months of finishing his 12-week jail prison sentence in 2005.
Lingham's handwritten labels suggested that eggs were taken from 298 species, magistrates were told.
Ms Harper asked the court to consider seizing Lingham's car and banning him from driving to prevent him from reoffending.
Chairman of the bench Darren Gilkes said the 53 eggs taken from the country's rarest birds meant numbers would never recover.
RSPB senior investigations officer Mark Thomas said outside court that Lingham was a "one-man crime wave in terms of rare birds in Norfolk".