Les Dennis graffiti mystery in Norwich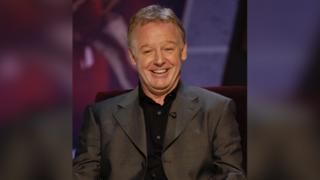 Les Dennis has denied being responsible for a spate of graffiti in Norwich city centre.
The entertainer took to Twitter to refute claims he is behind a series of "tags" featuring his name.
The 64-year-old, who is best known for presenting Family Fortunes, simply tweeted: "It wasn't me."
Norwich City Council said it aimed to clear up all graffiti within two weeks of it being reported.
Dennis' name has been spray-painted at several locations in the city, including Hansard Lane, off Fishergate, and St Benedict's Street.
Some of the "artwork" has already been removed but fans of the former Coronation Street star have been quick to post their own sightings on social media.
Dennis has previously spoken about his love for Norfolk and has had a holiday home in the county for many years.
A spokeswoman for Norwich City Council said: "We ask residents to report incidents of graffiti on council property and public areas via our website in order to make sure our service runs efficiently.
"Where possible, we remove offensive or racist graffiti within 24 hours and all other graffiti within 14 days."
You may also like: