Norfolk Konect Bus fire in Carleton Rode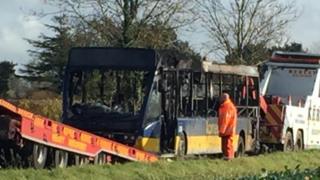 A bus had to be evacuated when it caught fire during the rush hour.
Norfolk Fire and Rescue Service were called to Hall Road, Carleton Rode, in Norfolk at 07:24 GMT.
Crews from Wymondham and Sprowston attended the blaze, but no injuries were reported.
On Twitter, bus service operator Konect Bus said there was an "incident" on their 37a service, but when contacted by the BBC for more information it said it had "no comment".
The 37a route connects the village of East Harling in south-west Norfolk with Norwich.
In a later tweet, Konect Bus said a replacement service was sent to collect passengers and they apologised "for any inconvenience caused".
The fire service said it used "absorbent materials to contain an oil spill."