Archbishop of Canterbury Norwich visit: Ex-homeless man is "inspiring"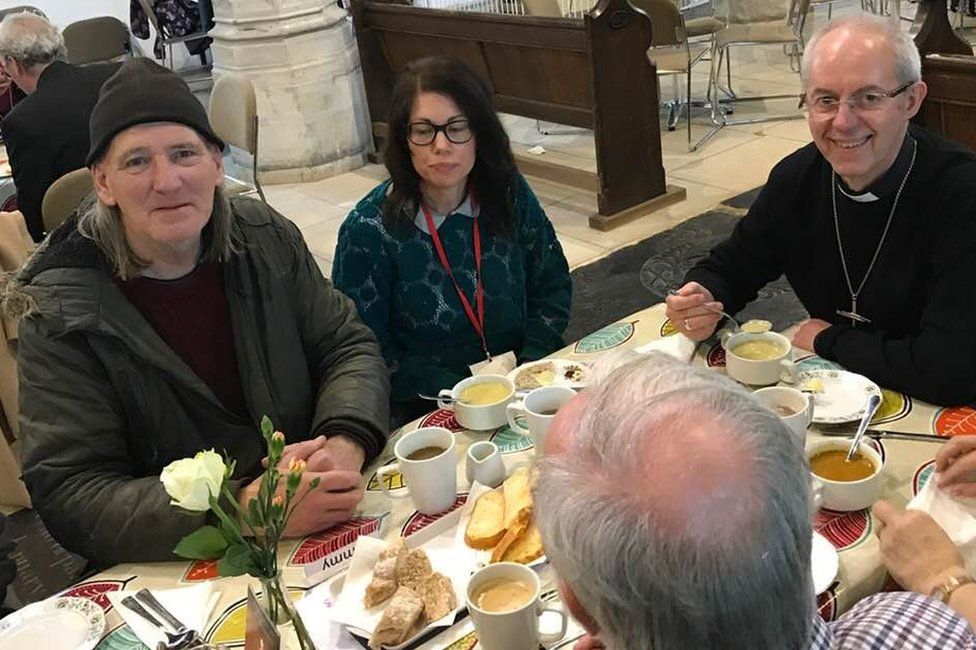 The Archbishop of Canterbury has described the story of a man who was homeless for five and a half years as "inspiring".
Archbishop Justin Welby met Jimmy Roberts, 62, at St Stephen's in Norwich as part of a three-day visit to Norfolk.
Mr Roberts said while he was homeless he was "sexually assaulted, assaulted and threatened with stabbing".
He was found sheltered accommodation with the help of church workers.
Archbishop Welby, who helped to serve at the church cafe, said he thought it was "a hope-creating lunch".
"Jimmy had been on the streets for a long time," he said.
"I heard his story and I think, there but for the grace of God go I. It's inspiring and I see his courage."
Mr Roberts said sitting with Archbishop Welby was "like sitting in peace, finding peace, not having to worry. Very calming".
The Revd Canon Madeline Light, of St Stephen's, said the cafe was a great way to serve the community and also help people who were living on the streets.
"St Stephen's is a beautiful building and we are making it accessible to the community," she said.