Two rescued from sinking fishing boat in North Sea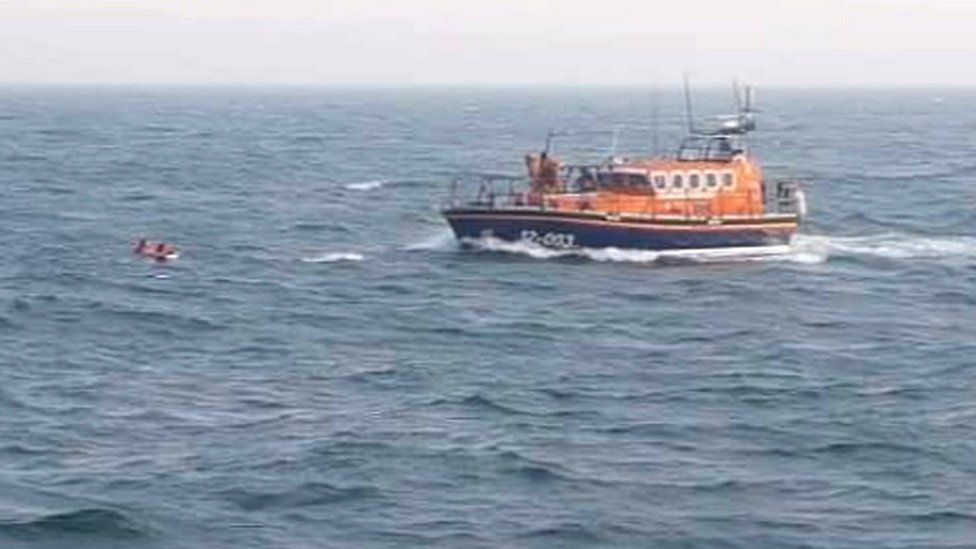 Two men have been rescued from a fishing boat that sank off Norfolk.
Wells Lifeboat said it received a mayday call from the Lainey and found two crew members in the water.
A spokesman for the rescue crew said the fishing boat sank about six miles (9.6 km) north, north-west of Wells-next-the-Sea.
The lifeboat was assisted by a search and rescue helicopter from Humberside which was called to the scene at 15:06 GMT and winched the men to safety.
It is understood no-one else was on board the vessel.
Both men were conscious, according to Peter Rainsford of Wells Lifeboat, and were taken to the Norfolk and Norwich hospital.
The fishermen, who were wearing life jackets, had been in the water for approximately 30 minutes, "time enough in the water to be a cause for concern", Mr Rainsford added.
A Belgian military helicopter, which was training in the area at the time, spotted the pair in the water and dropped a life raft to them.
The Belgians then guided the RNLI to the exact location of the fishermen.
Matt West, Duty Controller for HM Coastguard, said: "Thankfully, despite suffering from extreme cold, both fishermen were picked up alive - we couldn't have asked for a better result.
"This incident must have happened so quickly that the casualties on the capsized vessel only just managed to put out a 999 call to the Coastguard."
The boat Seacat Magic, which was working at the Race Bank offshore wind farm, also helped rescue the men.
The Lainey had only been operating off the Wells coast for a few months.
The Maritime and Coastguard Agency said the boat capsized after losing electrical power.
The fishermen called the coastguard while clinging to the side of the hull of their vessel just before it sank.
Related Internet Links
The BBC is not responsible for the content of external sites.