Thetford man crushed to death by own car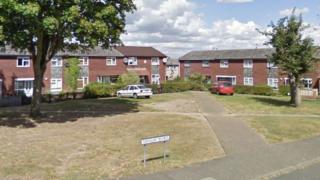 A man was crushed to death by his own car after he propped it up with a tyre, wooden block and a jack, an inquest heard.
Sarunas Masionis, 20, was trying to fix his Renault Scenic in the garden of his home in Thetford, Norfolk, when the vehicle fell on him on 21 June.
Firefighters manually lifted the vehcile off him but he died at the scene on Mingay Road.
Norfolk's area coroner Yvonne Blake concluded he died by misadventure.
The inquest heard how Mr Masionis, who was originally from Lithuania, was attempting to fix the car's handbrake before its MOT.
His partner, Viktorija Galvanavskaite, discovered the factory worker's body at around 12:10 BST.
In a statement read at the inquest in Norwich, Ms Galvanavskaite said Mr Masionis had propped the vehicle up with a tyre and a "wood block with the jack on top".
She saw his legs sticking out from under the car and tried to wriggle them, then noticed he looked blue.
Neighbour Bernard Philpott tried to lift the vehicle off Mr Masionis using his his own jack before firefighters arrived.
A post-mortem examination gave his cause of death as asphyxia due to fatal compression of the chest.
Concluding that Mr Masionis died by misadventure, Ms Blake said "the jack failed".