Norfolk police budget cut of £5.5m means 110 jobs face axe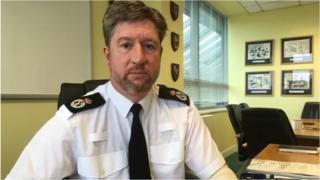 A chief constable said extra budget cuts mean officer numbers could fall to their lowest level since 1968.
Simon Bailey, who heads Norfolk's force, said changes to officers' pensions would cost £5.5m, on top of £10m cuts already announced.
"The cuts would mean the equivalent of 110 fewer officers and numbers hitting a historic low of 1,400," he said.
A Home Office spokesman said they were working with chief constables to "understand the impact" of the changes.
Norfolk's estimated police budget for 2020-2021 was £160m.
'King Canute'
Mr Bailey said the force would "end up investigating and detecting less crime, and providing a service I don't believe any chief constable would be happy with".
He said: "We can't have criminals thinking the police are so over-stretched they could do another burglary, deal another drug or rob the corner shop.
"We need a greater investment in policing. I feel like King Canute trying to hold back the waves and that's impossible."
He hoped the Treasury would listen to chief constables across the UK and revise plans concerning pensions.
The Treasury has said it would provide money for the pension costs in 2019-2020.
Costs would be considered alongside other funding in the police spending review, a spokesman said.
"We are working closely with forces to understand the impact this change will have and are in discussions about mitigating the impact on the front line," he said.
Norfolk's police and crime commissioner Lorne Green said he would write to the Home Secretary and police and fire ministers to describe the impact cuts could have on Norfolk.