Ash dieback: Seed orchards could help species recover sooner
By Mariam Issimdar
BBC News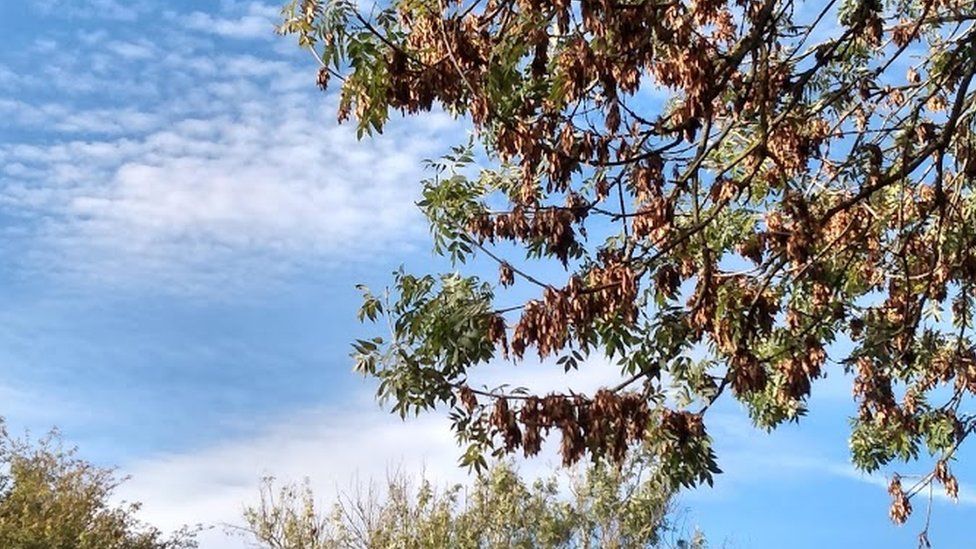 Scientists researching a deadly ash fungus believe creating a seed orchard could help trees recover "in decades" instead of centuries.
Prof James Brown, from the John Innes Centre in Norwich, said planting resistant seeds over three generations would help the species come back in greater numbers.
Ash dieback was first recorded in the UK in 2012.
The Forestry Commission said it was "encouraging natural regeneration".
Chalara, which causes leaf loss and crown dieback, was first found in Poland in 1992 and arrived in Britain via wind-borne spores and imported plants.
Since then, Prof Brown has identified more healthy ash growing alongside infected trees throughout Norfolk, which he says indicates some ash as having genetic resistance to dieback.
He advocates planting an orchard, using seeds from these dieback-resistant specimens, which would provide a healthy population of ash more quickly than if it was left to nature.
He said this orchard could then be a resource for planting new ash in 20-30 years.
"It would see the species recover in several decades instead of several hundred years or longer," said Prof Brown.
However, EU rules prevents the movement of plants and seed between sites, with the aim of preventing the spread of the disease.
Prof Brown said: "But research in Sweden has found no evidence that ash dieback can be spread on seed.
"The rules should change and we should be encouraging the replanting of ash using seed from healthy trees."
The Forestry Commission confirmed that a Plant Health Order "prohibits all imports and internal movement of ash seeds, plants and trees".
"This is to reduce the risk of new strains of ash dieback being introduced into the UK and blighting our European ash species," a spokeswoman said.
"We do, however, encourage natural regeneration [tree growth from fallen seeds] as the preferred method of replacing ash trees."
The professor said negotiations were under way to find a suitable site in Norfolk to plant resistant seed.
Related Internet Links
The BBC is not responsible for the content of external sites.