King's Lynn QE hospital head quits following 'inadequate' report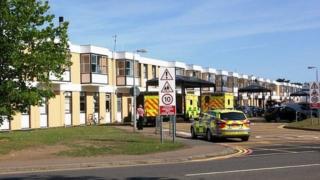 The chairman of a hospital in special measures has stood down.
Edward Libbey informed governors at the Queen Elizabeth Hospital in King's Lynn of his decision on Monday.
A report last month from the Care Quality Commission (CQC) rated the hospital inadequate amid concerns over safety and leadership.
In a statement, Mr Libbey, who had been in post for five years said it would be appropriate to stand down now for "cultural" changes to be implemented.
"While many of the problems highlighted in the QEH's CQC report are already being addressed, underlying the report is the requirement for significant cultural change within the organisation," he said.
"Cultural change takes time and the work needed to deliver it must start immediately."
The health watchdog's inspection report in September revealed high staff turnover, high vacancy and sickness rates, citing that low nursing staff levels were impacting on patient safety.
Responding to the report last month, Mr Libbey, who grew up in the town, agreed to reduce beds to improve the quality of patient care.
This meant delaying up to 25 operations a week to cope.
At the time he said: "I'm sorry, I'm sad, but we must make sure all urgent patients get the care they need in a healthy, safe and friendly environment."
The hospital is working with an NHS Improvement director to attract new employees.
The board's current vice-chair David Thomason will take the chair until a new permanent appointment is made.