Councillors agree Norfolk mobile library savings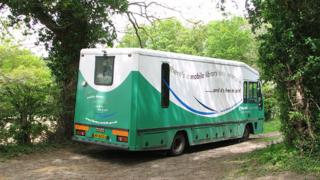 Opposition councillors say a decision to keep the majority of mobile library stops is a "major victory".
Plans to save £200,000 have been approved, but only 92 mobile stops will be scrapped instead of 725.
Norfolk County councillors also agreed to decommission two mobile trucks as part of the savings.
The changes would save a total of £100,000 with a further £100,000 being cut from the general libraries budget, a spokesman said.
The mobile service budget for 2017-2018 was £447,765.
From April visits will be made every four weeks instead of two.
Prior to the meeting, Margaret Dewsbury, Chairman of Norfolk County Council's Communities Committee said: "This feels like a good solution that will deliver savings yet secure the future of the service."
The committee's Liberal Democrat group, which opposed the original reduction to the service proposed in July, said today's decision was "sensible".
"It's a major victory. We have to be realistic in the current financial climate," said Sarah Butikofer, a Liberal Democrat county councillor.
"Every service has to make a contribution to the cuts that need to be made, but it's not going to have an impact on users," she said.
But the decision was not supported any of the committee's three Labour councillors.
Chrissie Rumsby, a Labour county councillor, said she could not vote for a recommendation that was "unclear" about whether there would be redundancies.
The report said 7,525 individuals used the mobile library service in 2017-18 - of those 58% only used a mobile library.
The county council has an overall budget shortfall of £45m for the next three years.