Great Yarmouth market: Plans unveiled for £2.7m upgrade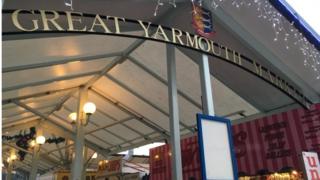 Plans for the £2.7m redevelopment of an historic market place in a seaside town have been unveiled.
The scheme for Great Yarmouth market would replace the 36 stalls with new single and double stall units, covered by a new market canopy.
The plans were put forward by Great Yarmouth Council which said the market would be "fit for the 21st Century".
But some stallholders have raised concerns the new stalls would sweep away years of tradition.
The proposals for the market, which is thought to date back to the 11th Century, include two central areas - one covered - for sitting, eating and potentially small events and activities.
There would also be refurbished trader toilets and a new market office.
'Not an option'
The political group leaders for the ruling Conservative group, Graham Plant, and opposition Labour group leader, Trevor Wainwright, said in a joint statement: "We have one of the UK's oldest markets, and that longevity has rested on its ability to adapt over the centuries.
"People tell us that the market is again ready for a change. The current canopy dates to 1992 and is beyond its designed lifespan, so just carrying on with maintaining this is not an option."
In July this year, traders told BBC Radio Norfolk of their concerns at the proposals.
Architects have been brought in to design new stalls - which will be rented to traders.
However, that has upset many of the stallholders who currently own their units.
But Joe Harrison, chief executive of the National Market Traders' Federation, called the plans a "genuine improvement to the benefit of the people who will both trade there and shop there".
The plans go before the borough council's policy and resources committee on 16 October.