Norwich City winger Yanic Wildschut fined for speeding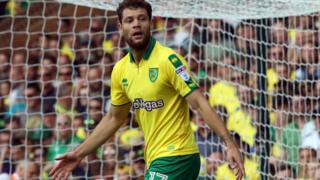 A Norwich City footballer has been fined for speeding in his Mercedes car on the city's inner ring road.
Dutch winger Yanic Wildschut, 26, admitted driving his E220 at 45mph (70km/h) in a 30mph (50km/h) zone on the A140 Colman Road on 6 December.
Norwich magistrates fined Wildschut £293 and ordered him to pay a £30 victim surcharge and costs of £100.
Magistrates also put five points on his licence. Wildschut is currently on loan at Bolton Wanderers.
He joined Championship side Norwich City from Wigan Athletic in 2017 for £7m.
His address was listed as Ipswich Road, Norwich, on court documents.