Norfolk origins of US outlaw Black Bart 'revealed'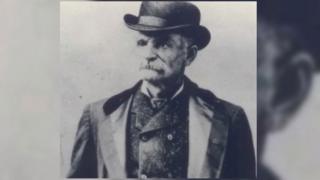 The "true" English parentage of a US outlaw who robbed stagecoaches, often leaving a poem behind, has been challenged by a genealogist.
Charles Boles, nicknamed Black Bart, robbed 28 Wells Fargo vehicles in California between 1875 and 1883.
Biographies say his parents were John and Maria Bowles of Great Yarmouth in Norfolk, but Joanne Penn disputes this.
She says his parents were John Burch and Maria Hall, from the Bressingham area of south Norfolk.
Ms Penn, a professional genealogist who has worked with the BBC's Who Do You Think You Are? television programme, discovered that Mr and Mrs Bowles' last child was born in Great Yarmouth long after Black Bart's family were known to have moved to the US, so therefore they cannot have been his parents.
"Black Bart is thought to have travelled with his family to the US in 1830-1831," she said.
"His parents bought a farmstead in Plessis, near Alexandria Bay in New York State, and had two more children there in 1832 and 1834.
"Mr and Mrs Bowles of Great Yarmouth had their last child in Yarmouth in 1835 and can still be found in the town in the 1841 and 1851 censuses."
The Legend of Black Bart
Black Bart started robbing coaches after spending four years as a Union soldier in the US Civil War and unsuccessfully prospecting for gold in California
He was known for his politeness and never stealing from passengers, only taking the contents of the strongbox and mail
Although armed with a gun, it is believed he never fired a shot
After the fifth robbery, he started leaving a poem behind
Bart was caught in 1883 by Wells Fargo detectives after they tracked him down via a laundry mark on a handkerchief he left at the scene of a robbery
He spent four years in San Quentin Prison. Released in January 1888, he disappeared from the record books and no-one knows when or where he died
Ms Penn said she then worked out who Black Bart's real parents were.
She found that a man called Leonard Bowles was living in Alexandria, New York, at the same time as Bart's family was known to be there, and he appears to have also used the name Burch.
"Leonard's naturalisation application in 1838 recorded that he was born in Shelfanger, Norfolk, England in 1792," said Ms Penn.
"We know that Leonard was living in Bressingham (just four miles from his birthplace) just before he emigrated, as he had his children baptised there, between 1824 and 1827.
"The Bressingham churchwarden's accounts show payment was made to 'certain paupers' to emigrate in the financial year 1830-31.
"We also have clear documentary evidence of Leonard, Black Bart's father John, who was born around 1789 [and believed to be Leonard's brother], and Leonard's father, James, all using both surnames of Burch and Bowles, while in Norfolk."
Researching in the Norfolk Record Office, she found that a John Burch and Maria Hall married in 1811 in Shelfanger and they baptised their son Charles in Bressingham in 1829 - the year given as the year Bart was born in all previous histories.
It was this Charles, she believed, who went on to emigrate with his family and eventually become Black Bart.
She said: "It's very satisfying to get to the truth."
'Painstaking work'
The Calaveras County Historical Society's museum in San Andreas, California is regarded as the place to go for people interested in the story of Black Bart.
The town was home to the courthouse where the outlaw was put on trial and jailed.
Karen Nicholson, operations manager at the museum, said: "Although we have quite a bit of information on his life as a stage coach robber... it is nice to be able to complete the story with details of his early life.
"The end of his life remains a mystery."
Victoria Draper, outreach officer from the Norfolk Record Office, said: "It is fascinating to know that an infamous US outlaw from the 1870s was born in Norfolk, and to see the painstaking work which Jo carried out in order to discover his 'true' identity."