Norwich printing museum: Owners seek new location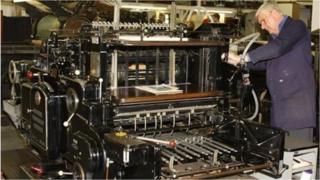 Fears that a printing museum, regarded as part of a city's heritage, would close to make way for housing have been dismissed by the owners.
The John Jarrold Printing Museum in Norwich has been on the Whitefriars site since 1982.
An application has been submitted to develop riverside land nearby for 218 new homes and offices.
The Jarrold Group said the building was to be demolished, but it was looking for a new location for the museum.
The museum, which has already had two different homes, contains working exhibits dating from the early 19th Century showing the history of printing and book-binding in Norwich.
The vintage typesetting, lithography and hand press machines are used by students at Norwich University of the Arts as well as local craftspeople.
Since the demolition of the building was revealed earlier this week, 42 complaints have been registered on the planning application on Norwich City Council's website.
Most of the people fearing that the museum would close said it was part of the city's heritage and attracted a great deal of interest especially from tourists even though it was only open and run by volunteers on Wednesdays.
"We can confirm the redevelopment plans will affect the current museum site," a spokesman for The Jarrold Group said.
"We are in discussion will all parties on how best to ensure the history and heritage held within the museum is best conserved and displayed in the future."