Debut Great Yarmouth air show makes £500,000 loss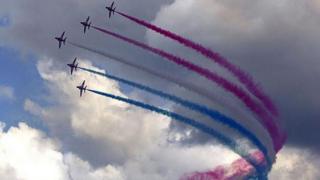 The first air show to be held at a Norfolk seaside town made a £500,000 loss, figures seen by the BBC reveal.
Great Yarmouth's inaugural festival took place over two days in June and featured the Red Arrows and a Battle of Britain memorial flight.
It brought in revenue of £151,000 but expenses were more than £730,000, the BBC was told.
The tourism and business improvement board said it hoped the festival, in some form, would return in 2019.
The air festival had a difficult start. In 2017, what was to be the first event was cancelled due to "significantly higher than anticipated" costs.
Then, in May, the Red Arrows were forced to change their flight path to avoid nesting birds.
But about 180,000 people are thought to have attended the free-to-attend show over the two days.
Secretary David Marsh said the festival was a success, but the format could change for next year.
"We have to be very secure for our crowds, so we had a big counter terrorist measures, we had big medical service measures, and we had a big park and ride system," he said.
"The event was a success, but not as many people used the park and ride system as we had planned for by a long way, so we were £200,000 odd short.
"We can afford to pay the bills, everyone is getting paid. We're moving on to how can we do something better, and maybe one big event in June, which is a difficult time of year, isn't the way forward and we'll try and do something better."
The Civil Aviation Authority has asked for the event to be later in the year, to avoid the breeding season at a nearby tern colony.
"We have told the organisers to schedule the event at a different time of the year to avoid disturbing the colony of terns at nearby nature reserves during their breeding season," a spokesman said.
"This action has been taken in co-ordination with Natural England and RSPB.
"The organisers are yet to submit an application for the 2019 show, we will process it in the normal way when the application is received."