Matthew Gray: HMP Norwich inmate death was 'misadventure'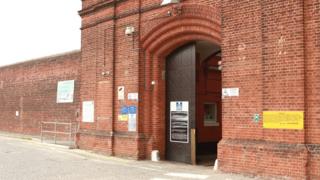 An inquest jury has concluded that a prisoner found hanged in his cell died of misadventure.
Matthew Gray, 31, was discovered at HMP Norwich on 20 March 2017 and died in hospital two days later.
The jury confirmed the cause of death was a lack of oxygen to the brain after he was found hanging from a bunk bed.
The Norfolk coroner said previously: "[Mr Gray] told staff he was under threat from other prisoners but measures were ineffective."
The inquest had heard that Mr Gray, who had a history of self-harm, had told officers he was being threatened over "drug debts" but there was "no evidence" his claims were investigated.
The jury found his fears had not been "significantly communicated to prison officers", many of whom were working under "limitations".
Area coroner Yvonne Blake said Mr Gray was on a mental health care plan which included changes to his medication and was moved to a segregation unit after jumping onto the safety netting on 8 March.
She said he refused to leave the unit when asked on 16 March and was put into restraints and moved back to the main wing.
Ms Blake offered her condolences to Mr Gray's brother and aunt, who were concerned about confusion over the use of a defibrillator when he was discovered.
As a result of the inquest, counsel for HMP Norwich told the coroner the jail would be issuing staff a notice that CPR or resuscitation "was needed in all cases whether or not a patient is unequivocally dead".