Ambulances to stop for additional emergency patients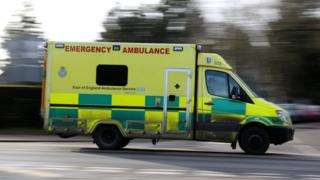 A policy of asking ambulances to go to a second emergency on the way to hospital could leave patients stuck "for hours on end", a paramedic said.
East of England Ambulance Service said its scheme, as first reported in The Guardian, was "absolutely right".
A spokesman said paramedics would only be diverted to a second job where the first patient already on board was clinically stable.
The service is among the worst performing for ambulance delays.
A paramedic - who did not want to give his name - told the BBC the policy was putting crews in a difficult position.
"Each ambulance only carries one set of monitoring equipment so it would be difficult to continue to monitor both patients at the same time," he said
"In many situations we can't convey the patient quickly to hospital once we've assessed them either because we'd have to wait for back up.
"This could be a number of hours and means the first patient could be waiting on someone's driveway in the ambulance for hours on end," he said.
But the trust's medical director, Dr Tom Davis said: "There are rare situations where a crew who are transporting a clinically stable patient may be passing close by to a life threatening category one incident.
"It is absolutely right that the crew are contacted to assess if it is clinically safe for the patient on board, if the crew were to stop at the incident and give immediate lifesaving care before the arrival of the next closest ambulance or car," he added.
Former health minister and North Norfolk MP Norman Lamb said the danger of delaying one patient for another "may create enormous ethical problems for the ambulance crew".
But Alex Stewart of Healthwatch Norfolk said ever increasing demands meant clinicians would have to make "unpalatable decisions".
"Which whilst not being popular with the public, will become increasingly common until the longer term issues in relation to appropriate staffing and funding requirements are debated in a true and reflective manner," he said.
EEAS serves six million people across Bedfordshire, Cambridgeshire, Essex, Hertfordshire, Norfolk and Suffolk.
Last month its chief executive Robert Morton resigned following years of criticism over staffing shortages, emergency response times and ambulance delays.