Matthew Gray: HMP Norwich inmate died after 'receiving threats'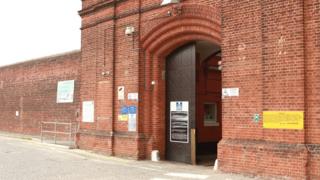 A prisoner found hanged in his cell had told officers he was being threatened but there is "no evidence" his claims were investigated, an inquest heard.
Matthew Gray, 31, was discovered in his cell at HMP Norwich on 20 March 2017 and died in hospital two days later.
Norfolk Coroners' Court heard Mr Gray, who had a history of self-harm, was threatened because of "drug debts".
He had been moved back onto a main wing from a segregation unit days before his death, the jury was told.
Norfolk area coroner Yvonne Blake told the court: "[Mr Gray] told staff he was under threat from other prisoners but measures were ineffective.
"Matthew did name the prisoners who were threatening him but there's no evidence this was investigated."
Ms Blake said Mr Gray was on a mental health care plan and was moved to a segregation unit after jumping onto the safety netting on 8 March.
She said he refused to leave the unit when asked on 16 March and was put into restraints and moved back to the main wing.
The inquest, which is listed for nine days, continues.